Meet Jack Mayor – Best Buddies Ambassador
Leadership Development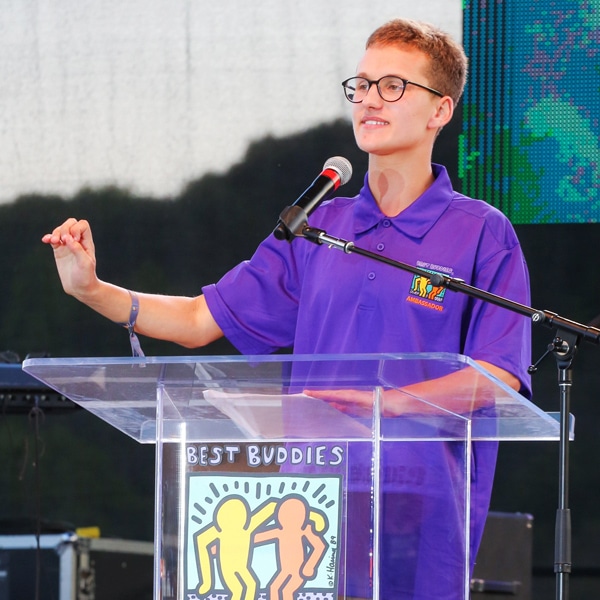 Jack has had quite the year with Best Buddies Illinois. Jack joined Best Buddies High School program at Neuqua Valley in 2014 and has been part of the Friendship program ever since. A staff member at Best Buddies was visiting Neuqua's Best Buddies chapter one afternoon and met Jack. After hearing Jack's story, she asked him if he would ever want to share his story with others. Jack beamed with excitement at the thought of being able to share his story with others and was soon introduced to the Best Buddies Ambassador program.
"Before I became involved in Best Buddies during my freshman year of high school, my life was very different. My life was very lonely. I was sad. I was depressed and I hated EVERYTHING about school. I sat alone at lunch and no friends. That's the thing with Autism. It's very hard to make and keep friends since most people don't get me and I have a hard time reading people's emotions. I also have a hard time starting conversations and staying engaged in them. I was so overwhelmed with my classes. I did not want to go to school. My parents talked to my teachers and then something absolutely amazing happened. I got involved in Special Olympics and Best Buddies. Through Best Buddies, I met somebody that has become my very best friend. Josie is her name. I know that this is going to sound all dramatic but it is the honest truth. Josie changed my life."
Jack attended the Leadership Conference during the summer of 2017. He was chosen to give his speech in front of thousands of attendees at the conference. Standing ovations followed his presentation and the requests for him to speak poured in from across the country. Jack was on his way to becoming a Global Ambassador.
Today, Jack continues to share this message with all audiences from coast to coast:
Best Buddies gave me Josie. They gave me the confidence to speak to you today. They also give other people with intellectual disabilities the chance to advocate for themselves.
This organization makes me want to change things for all kids like me. Best Buddies took my worst days and made them my best. Everyone deserves their best days and every kid deserves Best Buddies. I want every kid in middle school and high school to have the chance to find their own Josie! As an Ambassador for Best Buddies, my personal goal and hope is to help get Best Buddies in every single middle school and high school across the world. My take on Best Buddies is that all kids can benefit from it. Typical kids get involved in Best Buddies and become great role models and leaders. Kids like me, have the opportunity to walk away with someone who can change your life."