Meet Patrick McGoldrick, Best Buddies Ambassador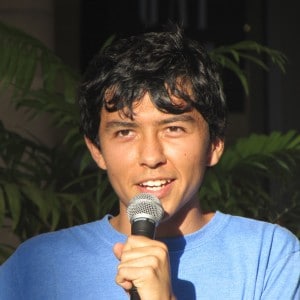 Hi, I am Patrick McGoldrick, and I am a Best Buddies Ambassador. I would like to tell you about my journey with Best Buddies, and how the organization has helped me improve so much in my life.
Before I was introduced to Best Buddies, it was very difficult for me to communicate with people. I would not make eye contact with anyone. I was always very frustrated and sometimes I would even growl at people. When I was a young boy, I used to be like a roadrunner at parties, never being able to stand still, I would turn my back when anyone would talk to me, and sometimes I would scream at them and run away. People made me cranky and upset. It was a very difficult time in my life. Thanks to Best Buddies though, things are very different for me now.
I joined Best Buddies eight years ago at Seabury Hall in Maui, Hawaii. Our chapter has provided a very nurturing environment for myself and other Buddies, where we have truly learned how to become friends with other students and peers. We have done so many great activities over the years including dances, costume parties, movie nights and luaus. I enjoyed my experience so much with the Seabury Hall Best Buddies chapter that I decided to start the process of becoming an Ambassador five years ago. Thanks to this decision, I have had the opportunity to attend four Best Buddies Leadership Conferences at Indiana University and was featured with my mom in the Best Buddies 25th Anniversary video.
Through my work with Best Buddies, I have met two Hawaii governors, and have attended the Day at the Capitol three times. Over the past several years, I have developed the confidence to interact with people, and have the desire to participate in activities regularly. For example, I play sports through Special Olympics and am a Vice Chairman of the Self Advocacy Advisory Council. I am also excited to say that I am now training for a job where I will teach residents of Maui about how to be best prepared for an emergency situation.
Thanks to Best Buddies, I have become a gentle, funny, and outgoing guy. I have Autism, but I no longer let it control me. I can now look people in the eye and feel very comfortable communicating with them. I am less hyper now, I focus on being polite to others, I no longer scream when people talk to me and I really enjoy making new friends. Best Buddies has truly changed my life, and I am so grateful for the opportunities it has brought to me.