Best Buddies Friendship Walk Success in Hawaii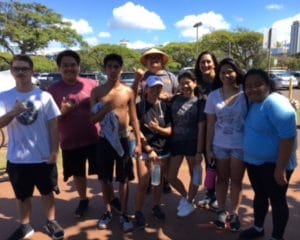 Oahu hosted its fifth annual Best Buddies Friendship Walk on March 11. The event took place at Magic Island, Ala Moana Beach Park. 175 participants were in attendance that included Leeward and Central school chapters: Kapolei HS, James Campbell HS, Pearl City HS and Aiea HS who assisted in volunteering their time at activity booths.
Participants engaged in Pre-Walk Activity by Zumba instructors to get the crowd ready. The event fundraiser raised over $18,000. Thank you to all the sponsors and donations given to support the friendship school programs.