Letter from Best Buddies Ambassador, Charlie Heckman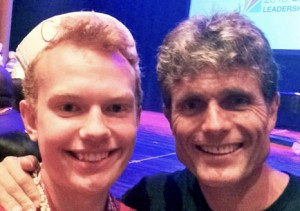 "Hello, my name is Charlie Heckman and I am a buddy director and ambassador for Best Buddies Jacksonville. I'm going to be a sophomore at Ponte Vedra High School this August. Before Best Buddies popped into my life, I lived in the city of Chicago where I was born and raised.
"I have two older sisters and one identical twin brother, Justin. When Justin and I were four, we were diagnosed with Autism and that changed the course of our lives forever. My parents tried every school they could (even homeschool) until my aunt two years ago persuaded me and my twin brother to come and checkout Ponte Vedra High School.
"Ten months later, Justin and I became students at PVHS and we went to different classes because of our different learning abilities. I first joined Best Buddies during club fair and the chapter president at the time Mary-Grace Sculley said I should become a buddy director (aka a person with intellectual and developmental disabilities who is a leader and representative for buddies).
"At first, I thought it was all a joke, but when her tone of voice became more serious that is when I knew I should join Best Buddies. This past November, I went to Novice Ambassador Training where I was taught how to do public speaking and the speech I gave that day sent me to Advanced Ambassador training.
"About a month before Advanced Ambassador training, the program managers for Best Buddies Jacksonville, Jessica Gray and Mary Pippin along with the PVHS Chapter President, Mary-Grace, and my buddy Oliver came to my house and the PM's formally told us that Oliver and I were chosen to represent Best Buddies Jacksonville during Legislative Day at the Florida State Capitol in Tallahassee.
"There, we were able to speak to state legislators and got to do a meet and greet with Governor Rick Scott. I also went to the Best Buddies Friendship Ball and Friendship Walk and those were fun events too. This past weekend however, doesn't even compare to all of the stuff I have done with Best Buddies so far.
"During this summer I was back in Chicago and Bloomington was only a four hour drive from my house. The rest of my Floridian friends had to fly a plane or two to get to the 2015 Best Buddies Leadership Conference (BBLC).
"For the first time in my life, I slept in a college dorm; I ate breakfast, lunch and dinner at the campus café, and most importantly I got to make a bunch of new friends from across America (if not the world in some cases) who are members of a great community that strive for inclusion for all so that people with any kind of IDD can live just like everybody else.
"During my first BBLC, I learned from seminars on how to operate the best Best Buddies chapter in our community and I was able to groove with my "Dance Jig" during the BBLC dance after the closing ceremonies. I can't wait to start my second year in Best Buddies and spread the message of inclusion to all."