Meet Toni & Kim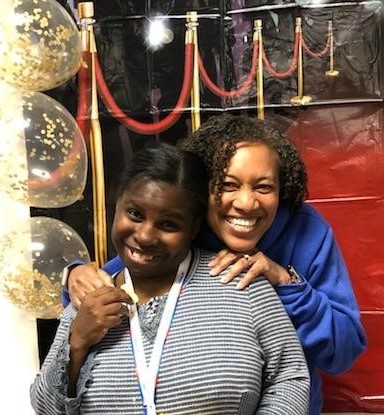 In 2010, Toni Lawrence attended a meeting where a coworker presented the Best Buddies program to her department. While she thought the program was a great way to give back to the community, she did not think she had the availability for a one-year commitment. She states if she knew then, what she knew now, she would have joined a lot sooner. Her buddy, Kim Easley, is like family to her, and the two of them have attended each of their family's events. She has been invited to her family events, and Toni has attended her events as well. One of their favorite times where they bring their families together is when they have date-night with their hubbies or pool parties at Toni's house.
Kim's favorite things to do are volunteering for events or eating out. One event they enjoyed doing was managing the children's table at the semi-pro basketball games. During this event, children could win prizes. It was nice seeing Kim interact with kids, and you can tell she has a passion for it. As for eating out, that is where they are different; Toni has been trying to watch her weight, and Kim's suggestions are oh so tempting!
Toni cannot believe how far Kim has come since the day they met. She was quiet and just smiled a lot. It took a lot to get her to talk, and Toni always felt like their conversations were one-sided. But that only lasted for a year, and now it is the other way around. Kim is open to her feedback and often gives Toni suggestions on what she thinks she should be doing when she has a dilemma.
Something that Toni just found out within the past year is that Kim loves to dance!!! Being devoted to her church, Toni was surprised by how much dancing she does. Once you get her on the floor, it takes a lot to get her to take a break, hydrate her body and then go back! Toni could go on and on about the friendship that she has built with Kim. She has a more patient and positive outlook on life, which is a great thing to have!!!
Best Buddies is a great organization, and Toni wishes more people would get involved. Toni noted she talks about it often which, has led to several friends and family joining the Best Buddies chapter. Her daughter Nichole has joined and is very involved in the Best Buddies program as well. It warms Toni's heart when she can help pair a new buddy connection. Meeting Kim has changed a lot for Toni, and she is so grateful that she decided to join the program 11 years ago; it has made a huge impact in both their lives.