Meet Mark & Ruben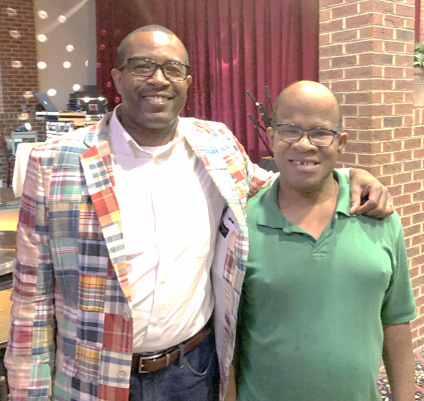 Mark Reeves and Ruben Cephas have been involved in the Best Buddies program since July 2010.  Before they were officially matched, the two of them met at work passing through the hallways, and both agreed to meet up for lunch in the café where their friendship began.  Over the years, Ruben and Mark have built such a strong friendship, and talk on the phone every week.  Under normal circumstances (pre-COVID), they would get together once a month, and Ruben would take Mark out for his favorite pastime of socializing and dancing.  Mark is a great dancer, and one of his favorite places is Delaware Park, where they have LIVE bands play.  Mark is very well-known there, and you could find Ruben sitting in the back, just watching Mark be in his glory.
Last year, Ruben brought Mark to the annual Best Buddies Ball, where Mark danced from the moment he walked in the door until the last song is played.  They also got to enjoy taking pictures together at the photo booth.  Not only does Mark love to dance, he likes to sing too.  Our chapter had a competition called THE VOICE where Mark was a contestant, and he ended up winning the entire thing and sand the National Anthem at our Friendship Walk.  Such a proud moment!
Ruben and Mark love each other's company and doing activities together, including going to lunch, going to the movies, and attending other Best Buddies events.  One of their new yearly traditions is going to Frightland, which is a haunted house attraction.
Both of their smiles are contagious and can light up any room!  Who knew that passing someone in the hallway would lead to many years of a wonderful friendship!