Meet Liz & Christine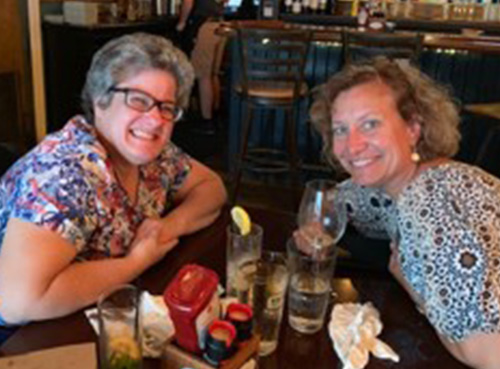 Liz Graney and Christine Askin have been involved in the Best Buddies program for over five years and have been matched since September 2015. One of their favorite things to do together has been going out to eat at restaurants over the years. Seafood places always seem to be their first choice; however, some of their other favorite places include Outback Steakhouse, Grain Craft Bar + Kitchen, and LaCasta Pasta, which they enjoy just as well.  Many times, Christine's kids and parents join in on the fun.
They have created such fond memories together and enjoy attending events with each other.  One event that sticks out is the annual trip to Longwood Gardens that Best Buddies hosts where they get to view the beautifully displayed lights. It doesn't matter what the weather is, whether it's raining, snowing, or freezing – that doesn't stop them from going and keeping up their yearly tradition.  You can see by the smiles on their faces how much they enjoy going there together and making new memories each year.
Due to the current environment, it's been challenging to go out and do activities together, however, Christine and Liz do a great job of keeping in touch with each other by talking on the phone. Just recently, Christine was trying to figure out what she could do for Liz's recent birthday, so she planned a social distancing birthday dinner for her with a few friends – and what else — pizza and dessert of course!!
The Best Buddies program has brought so much joy into both of their lives.  Liz and Christine have spent many hours together and have built a wonderful friendship throughout the years!!!