Meet Jenn Brant and Maribeth Hopkins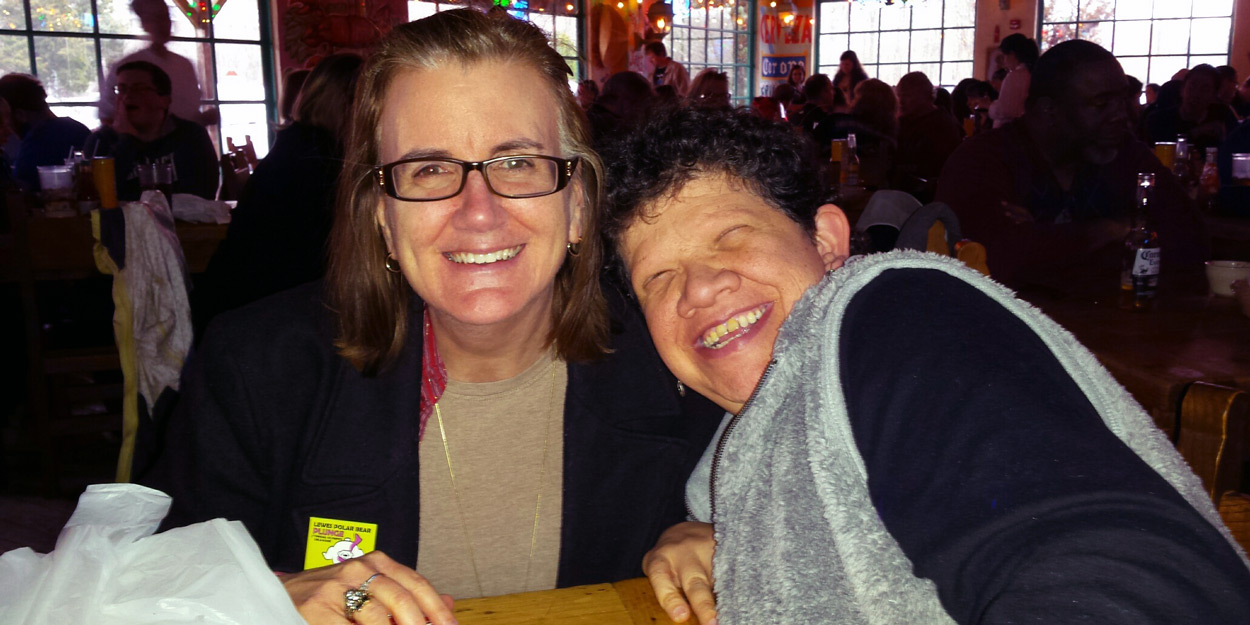 Maribeth Hopkins and Jenn Brant were matched almost nine years ago in May 2012. On that same day in May, Jenn's beloved dog, Bernie, passed away. Feeling so distraught, she almost canceled the lunch meeting for their buddy match but, boy was Jenn glad she decided not to cancel because she thinks Maribeth is AWESOME! The two immediately hit it off and got along right away! They chatted mostly about their families and what they liked to do outside of work.
Over the years, the two have enjoyed many lunch get-togethers, shopping together, especially at their favorite store, Bath and Body Works, playing miniature golf, and just talking on the phone or texting each other. They have participated in numerous Best Buddy Delaware events such as Movie Night, Longwood Gardens, group luncheons, and Happy Hour gatherings at Delaware Park and the Christiana Hilton. Their favorite event, hands down, was Karaoke Night! They had such a blast listening to all the Buddy pairs sing songs, and they got the chance to sing a duet of Sonny and Cher's "I Got You, Babe". Jenn just loves seeing Maribeth dance and laugh!
Last year and so far in 2021, they have had to shift many things, including their ways to see each other and ways they can still volunteer. They now see each other weekly by attending the Best Buddy Zoom calls and either text or facetime each other by using the app called Duo. It has been so great to see all of their Best Buddy friends on the zoom calls too since they can't meet in person at this time.
On January 11th, Maribeth celebrated a milestone birthday and turned 50 years old. With no way to throw her a big birthday party, friends and family were able to do the next best thing. With lots of help from Krista Scott, Danielle Williams, Dawn and Cathy Lazarczyk, and Tricia Tinney, plus Maribeth's family, Jenn organized a "Fabulous 50th Birthday" drive-by celebration for Maribeth. She was so surprised and excited when all the cars and trucks drove by her house, beeping their horns, decorated with Happy 50th Birthday signs, ribbons, balloons, and banners! This was a birthday Maribeth will never forget!
Jenn and Maribeth are so glad they met and have become friends – both adore each other, and they are looking forward to more fun get-togethers with their friends in the Best Buddies Delaware chapter once they can!