Meet Jen and Hope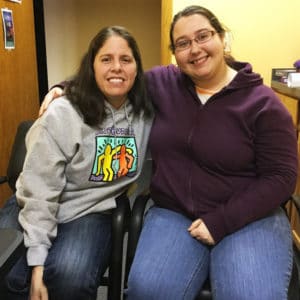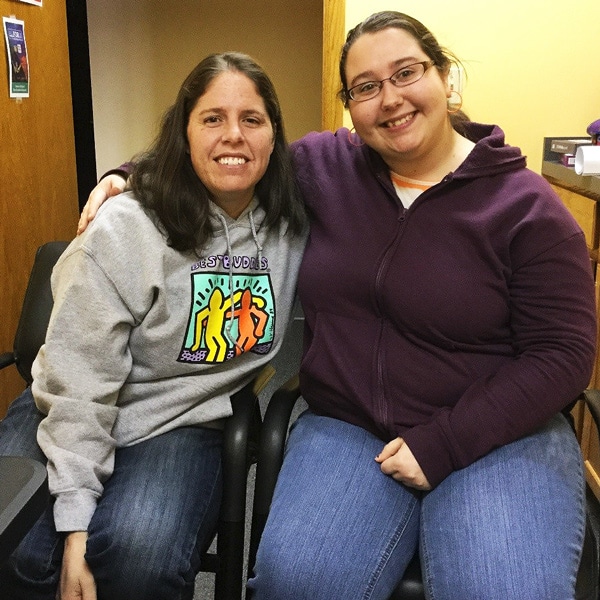 One of our most exemplary buddy pairs is Jen Potocki and Hope Blevins. Hope and Jen met at our Paint Nite event at the Mispillion Art League. It was Hope's first event as a new buddy and Jen was there assisting her mom, Miss Judy, who volunteers to run the event.
Jen was amazed at Hope's skills as an artist.  I immediately noticed how well they got along.
When Jen saw the Best Buddies group at the Delmarva Shorebirds game, I asked her if she thought she'd like to be a volunteer with us.  I even mentioned  Hope.
The two were matched within the next week.  Three days after the match meeting they went on their first adventure. Since then they have gone shopping, to the treasure museum, out to dinner,  saved a bird,  to the movies, and they had a sleepover.  They love to do crafts, cook and bake. Hope has been to Jen's house for a party and was able to stay for over three hours.  They have definitely grown into friends very quickly.
"I have never had a female friend.  Not even in high school.  I always wanted to do a sleepover and I am so glad that Jen and I do fun stuff together.  I am less anxious with Jen.  When I found that wounded bird, I knew Jen would know what to do.  She is my best buddy. " Hope says with pride.
Jen is surprised how well Hope has fit into her family, "My son, Tyler, loves it when Hope is over for dinner or if she is doing crafts with us."  She also notes that at first, she was concerned that the time commitment would be too much but then realized that the time spent with Hope was easy and pleasant to schedule into her day.   These two ladies have quickly become the definition of our mission of inclusion and would like to extend their journey with Hope becoming a state ambassador with Jen's help.  Thank you Best Buddies for helping us make dreams come true one friendship at a time.