Meet Danielle & Margaret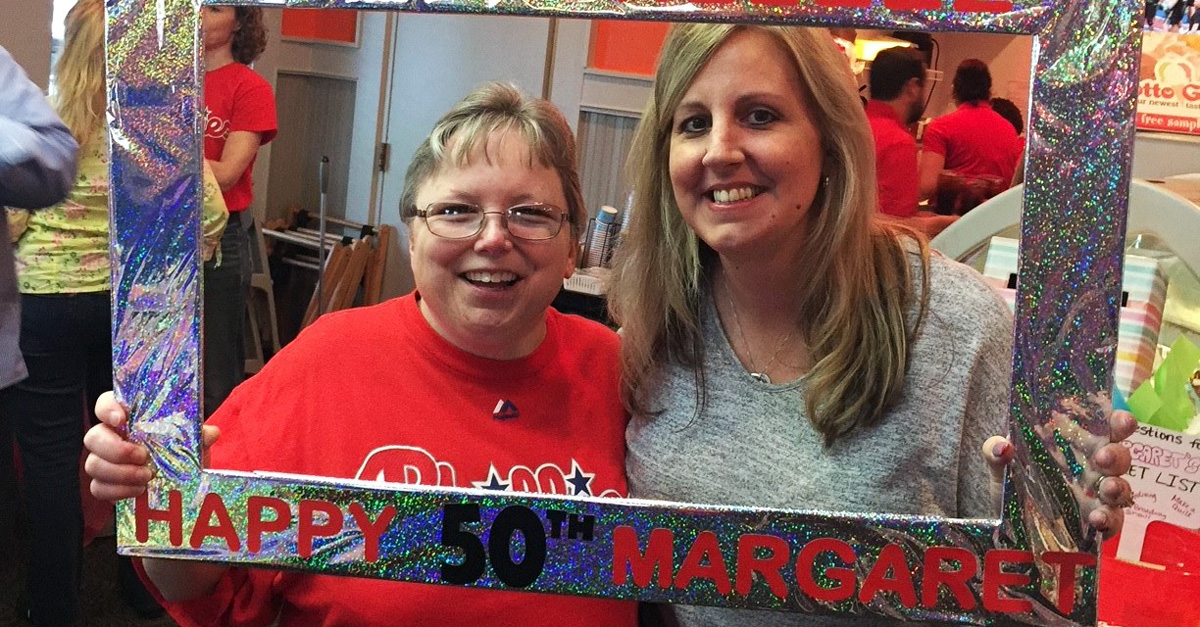 Danielle Williams and Margaret McGhie have been matched for 8 years since June and they are enjoying every minute of being best buddies together.
Throughout the years, Margaret and Danielle participated in many activities together but some of their favorites are celebrating birthdays and holidays, going out to eat, playing miniature golf, visiting the mall, and walking through Longwood Gardens. One thing that everyone knows about Margaret is that she LOVES to take pictures and share them on Facebook and Instagram for folks to see what she's been up to. Although the two still see each other on occasion, they are looking forward to doing more activities once the covid restrictions get lifted – especially riding bikes and walking along the local trails!
Danielle will never forget when she first met Margaret, she had just finished going through chemo and radiation in late 2012 and early 2013. This was a very tough time in Margaret's life and Danielle was touched that she would share something so personal with her loans-cash.net. They are proud to say that she is a breast cancer survivor and kicked cancer's butt!!! The two got to celebrate by attending a Relay for Life celebration and Margaret got the opportunity to walk on stage and announce herself! What an amazing opportunity and well worth celebrating!!!
Danielle and Margaret have many memories that hold a special place in their hearts. One of the most memorable moments that they have shared together was in November 2013, when they participated in the Champion of the Year fundraiser, along with two other champions on their team, and they won!!! They were able to spread awareness and raise almost $13,000! As winners, their photo was displayed on a billboard along the I-95 highway in Wilmington, DE to raise awareness for Best Buddies. Their local chapter was extremely proud of them and made them feel like celebrities!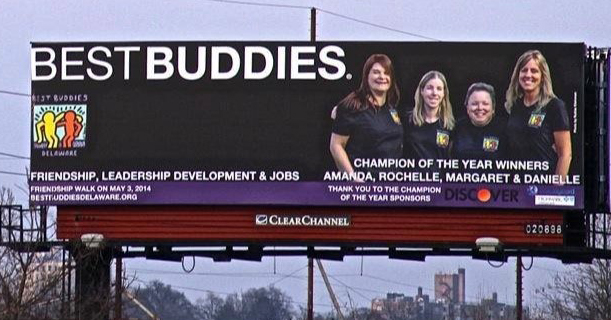 Another memory was for Margaret's 50th birthday – Danielle threw her a milestone 50th birthday party at a local Grotto's pizza where they were able to celebrate with family and friends, and Margaret's favorite food – pizza! That's one birthday they won't forget!
Danielle and Margaret have grown so close after all these years and Danielle wanted to share the following:
"Being involved in Best Buddies has really inspired us both to be better people. We've shared many experiences together and enjoy each other's company. I have to say the best thing about this, is seeing how simple life really can be in the eyes of Margaret. She doesn't take anything for granted, is always super positive and truly enjoys life. We've met so many incredible people through this program and wouldn't trade it for anything! Life is short, so enjoy it with the ones you care about and make a difference. That's what matters most – that we are making an impact, not just with each other, but with everyone around us." – Danielle Williams