Advisory Board Member Highlight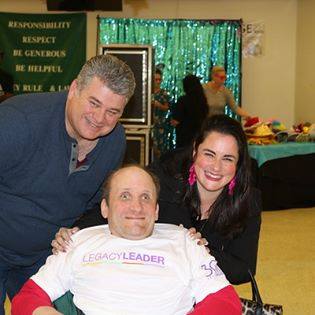 Meet Bill Ziegler!
My name is Bill Ziegler, and I have been a member of Best Buddies in Delaware for ten years. I am a member of the Bank of America chapter, and I joined the Best Buddies in Delaware Advisory Board in 2020.
My favorite part about being in the Best Buddies program is that I see people I've worked with or have known throughout my career through events and Zoom calls. Meeting new people within my chapter or at Buddy events is also a thrill, plus I like helping on the Advisory Board. I enjoy the group luncheons, the Fall Fest, and year-end luncheons at the mall with my chapter.
A special memory of mine was after many years of trying, I earned the top fundraiser crown for the Friendship Walk in 2019, and in 2020 named the Champion of the Year!
My buddy is Dave Beckett, and we just celebrated our 10th year together. My favorite memories with Dave are being with his family and attending his 50th birthday party. Dave and his wife, Marie threw a little gathering for my 50th birthday, which was attended by my Dad and some people from the Bank of America Chapter, which was a lot of fun. I look to being the Grand Marshall for this year's Friendship Walk, an honor I received as the 2020 Champion of the Year.