Meet Vanessa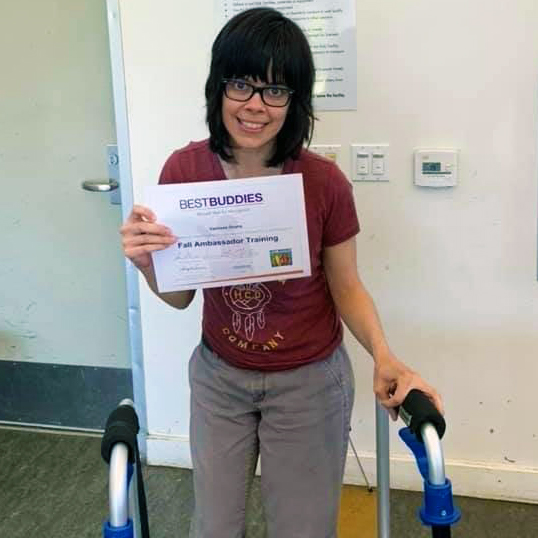 Vanessa has been involved with Best Buddies for a year and a half through our Friendship, Jobs, and Leadership Development programs. The Leadership Development program builds up and empowers volunteers with and without IDD in our communities to use their voice and platform to become leaders and advocates.
It's no surprise that Vanessa recently became one of our newest State Ambassadors. Her leadership, especially during the pandemic, has opened the door for many others to get involved in Best Buddies events and activities during an increasingly isolating time.
Best Buddies Program Supervisor, Melissa Peterson said, "When the pandemic first hit, she pivoted the program to a virtual model without being asked to do so and developed a robust calendar of activities to keep everyone connected and socializing!" She has hosted and facilitated numerous Virtual College Night Hangouts as well as Ambassador trainings and has shared her story with the Crescenta High School Best Buddies Chapter.
"Becoming a State Ambassador in California has given me the opportunity has encouraged me to get out of my comfort zone and become more comfortable with being in the spotlight."
Public speaking doesn't come naturally to everyone, but Vanessa says, "I found comfort when both people with and without disabilities shared their fears of public speaking. This experience reminded me I am not alone."
One of Vanessa's goals for the future is to speak as a Global Ambassador for Best Buddies." …I would like to challenge myself by sharing my story with the nondisabled community… As a person with special needs, I hope to show the world we have the same goals and dreams as our non-disabled peers and are capable of achieving them."
"Life with mild Cerebral Palsy has not been easy especially when it comes with a walker and a wheelchair. Because of Best Buddies, I know making friends is possible. Having a voice is possible. Gaining employment is possible. Living on my own is possible. Most of all I know living in a world where people with special needs are seen as valuable members of society is possible."
We know Vanessa's story and dedication to advocacy will inspire many others to speak up and use their voices to make a difference!
Are you or someone you know interested in becoming an ambassador like Vanessa? Email Jazzmine at JazzmineSantos-Kendrix@bestbuddies.org to learn more about our upcoming trainings!