Meet Miguel Gallardo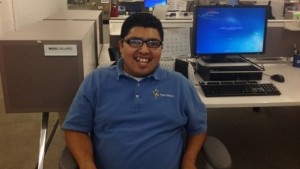 Miguel was introduced to Best Buddies in 2012, when he joined the Jobs program through the Best Buddies partnership with Project SEARCH at Kaiser Permanente Hospital South Bay. When Miguel started his internship rotations, he was at the bottom of his class in basic math and reading skills, and was essentially non-verbal. However, what Miguel lacked in academic skills, he made up for with an impressive work ethic and positive attitude. His perpetual smile and perfect attendance was an inspiration to his co-workers. Over time, it was clear by his performance that despite any challenges with communicating, he completely understood his job responsibilities and mastered all new tasks assigned in his rotations.
During one of his internship rotations at Kaiser, Miguel began working with the transportation department. This rotation required Miguel to be intimately familiar with the sprawling layout of the Kaiser campus in order to deliver specimens to the laboratory from various departments throughout the hospital. Miguel quickly learned his way around the entire hospital, a feat that took most staff weeks to master. Miguel's job coaches from Best Buddies identified that he had a talent for observing how a task was performed and being able to replicate that task very quickly.
Miguel's social skills and confidence grew exponentially throughout his rotations at the hospital, and he endeared himself to everyone he came into contact with. After graduating from the Best Buddies Project SEARCH class, Best Buddies developed a job for Miguel at Conill, a prestigious marketing agency in the South Bay. The true reward in finding a job that fit Miguel's unique skill set was when the Best Buddies job coach took him home after he was offered his job at Conill, and seeing his mother break down in tears because she never imagined that her son would ever have a job, let alone have the capacity to be financially independent. Today, Miguel is gainfully employed, and through the support of his Best Buddies job coaches and co-workers, has dedicated himself to a rigorous diet and exercise program, and has never been happier or healthier.
Since getting his job, Miguel says, "I have much more independence. I get to work on my own, and I have gained confidence in meeting new people. I've met many new friends, I feel like I am a part of the Conill family."