Meet Gian Portuguez & Tyler Perkins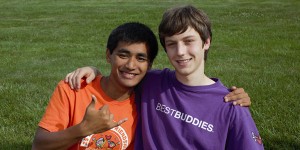 "Since joining Best Buddies my life has changed for the better. I have made many friends through Best Buddies and I now feel more confident socializing with others. Before Best Buddies, I rarely challenged myself and lived a fairly routine life. This organization has made me more comfortable stepping out of my comfort zone. I now put myself in positions where I need to talk.
"I spend a lot of my time doing work for Best Buddies; both for my chapter and on a regional/state-wide level. I am on the California Leaders Council and Friendship Walk Planning Committee, which have both allowed me to become more confident in myself as a leader.
"After becoming president of Lowell's Best Buddies chapter, I matched myself with peer buddy Gian. We both share many interests such as sports and music and often attend sporting events together. Gian is very outgoing and pushes me to talk to people. I am so lucky to have met him because I truly believe that I am a more complete person because of our friendship."