Joc And Champ Pederson Unveil New Cap For Charity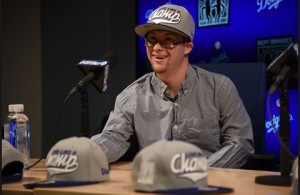 LOS ANGELES (CBSLA.com) — The Pederson family motto is simple: Live like a champ.
And not only is Dodgers rookie All-Star Joc Pederson living up to that mantra, but his older brother, Champ, is as well.
Champ has Down syndrome, and the brothers unveiled a new cap sporting the family's motto on the front to raise money for Best Buddies.
Best Buddies is a nonprofit charity that, according to its website, is dedicated to establishing a global volunteer movement that creates opportunities for one-to-one friendships, integrated employment and leadership development for people with intellectual and developmental disabilities.
The "Live life like a champ" caps will be sold exclusively at Dodger Stadium, with 31 percent of the proceeds going to Best Buddies.
Champ Pederson is the Best Buddies ambassador in California.
"It's exciting that the Dodgers and New Era are supporting my family and Best Buddies as well. It's something I'm passionate about and it brings us together as a family", Joc said.
Champ also had plenty to say about his younger brother, Joc.
"Well, to see my brother in my hat, well, I think it's good if he likes it. I just want him to like it, because it's something my mom and I created together. But I think it's great," Champ said.
Pederson says that his Dodgers fame has given him the right platform necessary to help his brother spread the message that no matter what you're going through, try to live life like a champ.