4th Annual Behavior Intervention Services Washers Tournament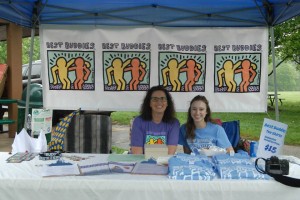 May 9, 2015
Rain, rain, go away! That was the slogan on Saturday,  at the Behavior Intervention Services (BIS) Washers Tournament benefiting Best Buddies Missouri. Despite the rain, folks were all smiles. Over 45 teams took part in the event and were supported by a host of volunteers and fans. Attendees were treated to a fantastic cheer routine by TAGG POMS (Totally Awesome Girlfriend Group) and an inspiring National Anthem sung by Darrius Roberts, a local artist with autism.
Winners of the raffle took home a variety of prizes including an array of lottery tickets, a gift cards package valued at over $1,600 (including St Louis Cardinals tickets!) and a massive wagon filled with adult beverages. Total proceeds from the Tournament are estimated at over $4,000 with all proceeds coming directly to Best Buddies Missouri!
Thank you BIS for partnering with us again this year and for another successful Washers Tournament!