Nutriformance Train the Trainer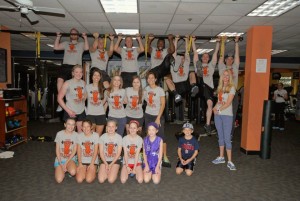 April 18, 2015
Local fitness and performance center, Nutriformance hosted a very successful Train the Trainer event to benefit Best Buddies Missouri! A great time was had watching the Trainers do various workouts designed by their clients/Nutriformance members. Interesting "workouts" included throwing darts to determine exercises, dance routines, ice hockey, bartending, and a version of Survivor that included a memory test and Twinkie eating….to name a few!
Together Nutriformance trainers and members helped raise awareness and funds, totaling nearly $15,000. All funds go toward Best Buddies Missouri's fundraising goal to open an office in early 2016.
Thank you Nutriformance! We look forward to continuing to partner with you for future events.