Event Chair & Event Vice Chair
The Event Chair directs the efforts of the Friendship Walk Committee by planning and executing the Walk, and following up post-event with Committee members, sponsors, staff, Team Captains and other key attendees.  As the Event Chair, you recruit, train, manage and retain an effective volunteer committee.  You provide leadership to the Walk Committee through delegation and support.
As the Event Vice Chair, you work together with the Event Chair to ensure that the committee is recruited, trained, managed and retained.  Depending on your agreement, you may be working toward a succession plan to eventually become the Event Chair.  Action as the Event Co-Chair now can foster a nice transition into the Event Chair in following years.
Friendship Walk Committee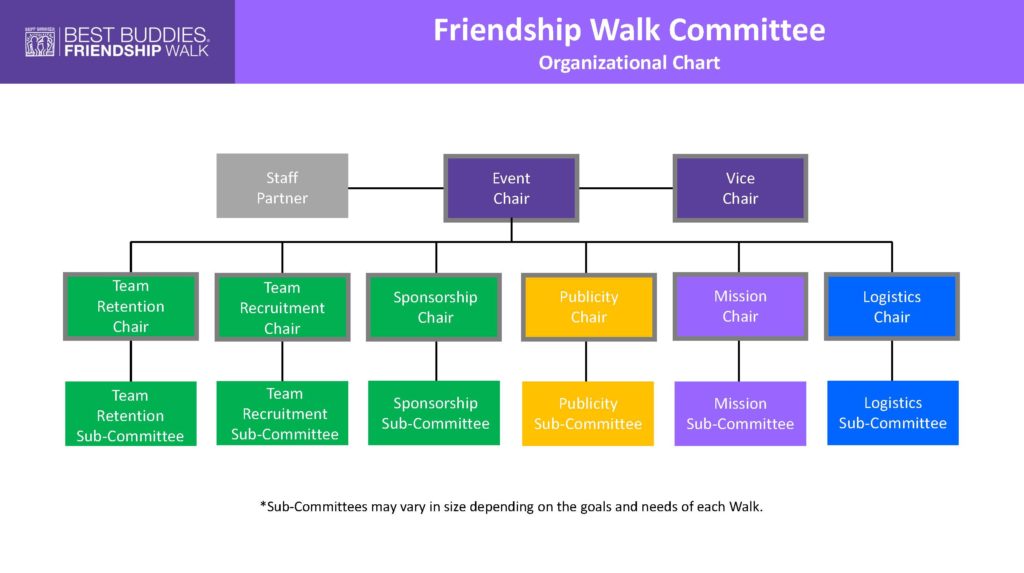 The Event Chair holds a lot of responsibility; do not attempt to manage this entire event by yourself.  Friendship Walk is truly a community event and is most successful when the community is involved.  In addition, recruiting, training, managing and retaining the right volunteers and delegating tasks appropriately allows you to focus on the bigger picture and strategy, and helps make your experience more enjoyable.
Dedicated volunteers are the driving force behind a successful Walk, as their passion for our cause, talents and community connections are vital to the growth of the event.  Your Volunteer Committee should take ownership over the event and enlist and empower as many volunteers as possible to help extend your reach into the community.
Leadership Luncheon Toolkit
Leadership Luncheon Sample Agenda