Middle Schools Educational Track
Middle school chapter presidents and officers will participate in a specialized training designed specifically for their unique leadership role. Middle school students with and without disabilities engage in activities to learn about their management style, develop tools for communication and delegation, and establish best practices for working with advisors and Best Buddies staff to manage their programs at home.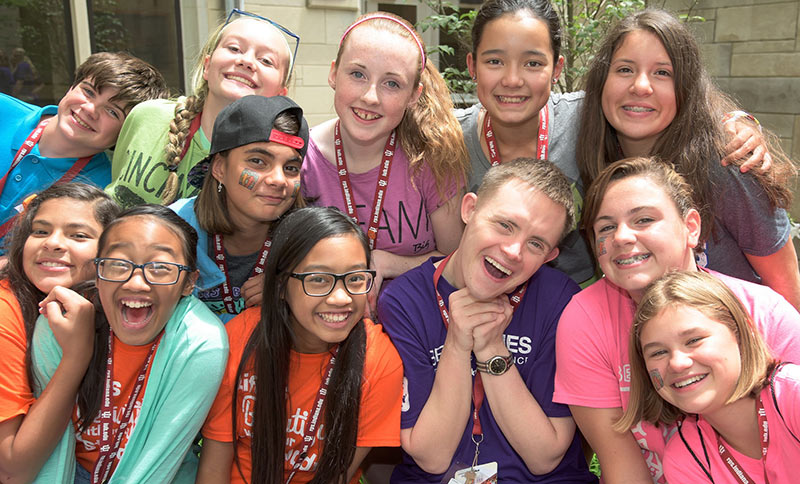 The majority of the middle school training will be offered in a classroom setting with other middle school leaders and led by designated senior Best Buddies program staff. The curriculum will focus on communication, delegation, working with advisors and Best Buddies staff, building leadership skills, and exploring one's own leadership style. All MS attendees will have opportunities to attend large-group sessions and learn with Best Buddies ambassadors and guest speakers. Training styles will vary in setting. Training settings include:
Classroom
Chapter management and program expectations will be reviewed with chapter leaders in a lecture style with personal, hands-on training from experienced Best Buddies staff members. Chapter presidents and officers will participate in these classroom breakouts with middle school peers from across the country and be taught by a range of staff, professional speakers, and senior student leaders, ambassadors, and advisors. Middle school participants will also be provided classroom opportunities to connect with their middle school chapter advisors in small teams to learn together the best practices, resources, and online supports that are available to their chapter throughout the year.
BBLC Talks Forum
On Saturday, July 22nd, students will participate in a TED Talks-esque forum; the audience will be comprised of all youth leaders with and without disabilities. The BBLC Talks speakers will be comprised of global disability rights advocates, professionals in the disabilities field, and experienced Best Buddies volunteers and staff who will share their expertise, best practices, and engage the audience to craft their leadership in the movement. The goal of the forum will be to showcase our progress in the movement, discuss the goals of our mission and tools for success, and provide awareness and networking opportunities for attendees. Additionally, speakers will evaluate how Best Buddies and the larger disabilities community can partner to ensure inclusion, employment, leadership and social opportunities are available to people with and without disabilities across the globe.
Roundtable
Student leaders will participate in roundtable discussions to cultivate the specific skill development needed to be a leader on their campus. The discussions' predetermined topics will focus on student based experience and be led based on needs and goals of the student participants. Student leaders should come to the Best Buddies Leadership Conference prepared to participate and share their experience in addition to seeking out answers, suggestions, and resources to support their own chapter goals. Roundtables provide a unique opportunity for student networking and peer-to-peer learning.
More information on the middle school track, events, and logistics can be found on the Middle School Training FAQ page.