High School Educational Track
High school chapter leaders of school friendship and promoters chapters and  will engage in the same education track this year; all high school leaders from our various high school programs can expect to participate in dynamic training topics that focus on the Best Buddies mission, disability rights movement, professional skill building and leadership development, and chapter management. Chapter presidents and officers, including buddy directors, will participate in inclusive training sessions together; sessions will offer a rich and unique training experience where students will learn from Best Buddies staff, network peer-to-peer, and participate in forums with professionals in the disability rights field. These trainings will be offered in a number of different styles and settings to ensure students leaders are able to learn, grow, and develop new skills by utilizing a variety of educational tools.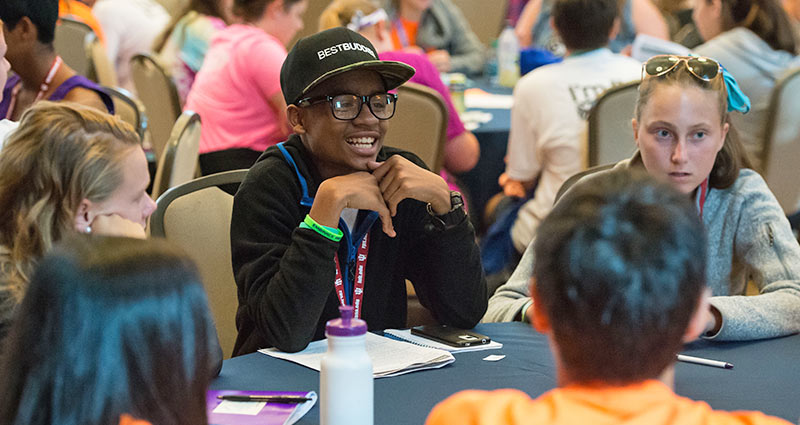 Classroom
Chapter management and program expectations will be reviewed with chapter leaders in a lecture style with personal, hands-on training from experienced Best Buddies staff members. Chapter presidents and officers will participate in these classroom breakouts with peers from their state or region and be taught by their Best Buddies staff contacts in their community, ranging from their program manager to state director.
Roundtable
Student leaders will participate in roundtable discussions to cultivate the specific skill development needed to be a leader on their campus. The discussions' predetermined topics will focus on student based experience and be led based on needs and goals of the student participants. Student leaders should come to the Best Buddies Leadership Conference prepared to participate and share their experience in addition to seeking out answers, suggestions, and resources to support their own chapter goals. Roundtables provide a unique opportunity for student networking and peer-to-peer learning.
BBLC Talks Forum
On Saturday, July 22nd, students will participate in a TED Talks-esque forum; the audience will be comprised of all high school leaders with and without disabilities. The BBLC Talks speakers will be comprised of global disability rights advocates, professionals in the disabilities field, and experienced Best Buddies volunteers and staff who will share their expertise, best practices, and engage the audience to craft their leadership in the movement. The goal of the forum will be to showcase our progress in the movement, discuss the goals of our mission and tools for success, and provide awareness and networking opportunities for attendees. Additionally, speakers will evaluate how Best Buddies and the larger disabilities community can partner to ensure inclusion, employment, leadership and social opportunities are available to people with and without disabilities across the globe. 
World Café
The World Café offers all chapter leaders a new and exciting platform to engage with peers and evaluate the successes, challenges, progress, and goals of being a Best Buddies leader. Focusing on the conference theme, All for Best Buddies, participating leaders will be assigned to small groups comprised of other high school leaders with and without disabilities. The goal of these small-group discussions will be to evaluate our commitment to joining the movement and fostering a global impact; conversations will explore how to impact, empower, and engage volunteers, families, and communities in the Best Buddies movement. The World Cafe provides students the opportunity to share ideas and cultivate skills to overcome challenges and feel informed and prepared to return home and lead their chapters successfully and creatively.   These small group discussions, facilitated by global Best Buddies staff, will provide leaders a new, ever-changing discussion forum to address the history of the movement, our involvement, and equip all leaders with the knowledge and tools to commit to global goals in their communities.