July 17-20, 2020
Indiana University – Bloomington, IN
The Best Buddies Leadership Conference (BBLC) will prepare attendees to create and foster life-long friendships, plan exciting activities, delegate responsibilities, communicate effectively, advocate, motivate, and inspire their community. Though each participant's journey will differ, all attendees can expect a welcoming environment to create connections with peers, develop diverse leadership skills, and make new friends.
Below is a snapshot of what a day in the life of a conference participant will look like. Check back often as the entire conference agenda will be posted as the conference nears.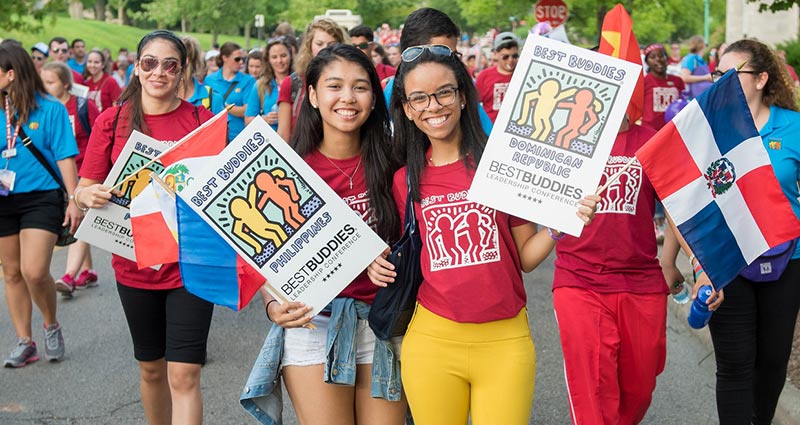 A Typical Day in the Life at BBLC
Morning: Rise and shine!
It's time to greet the day and get ready for exciting new opportunities to engage in the Best Buddies mission!
7:00 AM – 8:00 AM: Breakfast!
Meet your friends in the Indiana University dining hall for a wide variety of breakfast options. Once you finish breakfast, all states will establish a specific meeting place to gather before heading to the first events of the day.
8 AM – 12:00 PM: Educate! Inspire! Empower!
All chapter leaders will participate in a number of educational sessions, ranging from guest speakers, large group forum, panel discussions, classroom lectures, workshops, and peer-to-peer roundtables. Topics will vary based on program, but all attendees can expect a diverse educational training to develop their leadership skills and empower them to enact the mission in their community. Ambassadors will participate in specific trainings designed to educate leaders on public speaking, advocacy, and professional writing skills.
Afternoon: Learn, Lead, Love
12:00 PM – 1:00 PM: Lunch!
Depending on the program track, attendees will break for lunch in one of the several dining halls designated for Best Buddies lunch on the Indiana University campus.
1:00 PM – 6:00 PM: All for Best Buddies!
In addition to classroom lectures and roundtable lessons, all attendees will have opportunities for peer-to-peer networking and learning as a part of our World Café and workshop sessions. These sessions are designed to empower leaders to share their own experiences and interests to motivate, educate, and inspire their peers. These sessions are facilitated by senior Best Buddies staff, but the goal of these sessions is to encourage information sharing and partnerships among attendees. Ambassadors will have opportunities to engage with educational tracks to practice their advocacy skills and prepare their final speeches, articles, or conversational topics.
Evening: The fun continues…
6:00 PM – 7:30 PM: Dinner!
Attendees will have the opportunity to gather as a state or with newfound friends for dinner in one of the dining halls designated for Best Buddies dinner on the Indiana University campus.
8:00 PM – 11:00 PM: Party time!
Each evening, a range of activities will be offered to engage participants and keep the fun going based on their age and interest. Events scheduled include an exciting Friendship Walk to showcase our mission, outdoor events with celebrity ambassadors, movie nights, bowling, billiards, and a celebratory dance party with all attendees, treats, and games, and other planned social gatherings.
Post-Events: Call it a night!
All middle school and high school participants are expected to be in their dorm rooms by 11:00 PM each night; dorm checks will be completed by all Best Buddies staff to ensure all students are in their rooms by this designated time. College students and adult ambassadors and job participants are welcome to stay up past 11:00 PM, but are expected to be in their dorm building, preferably on their dorm floor, by this hour. Remember, it's another early day tomorrow and everyone needs enough energy, enthusiasm and spirit to learn, lead and love the Best Buddies mission!