America's Miss World Campaign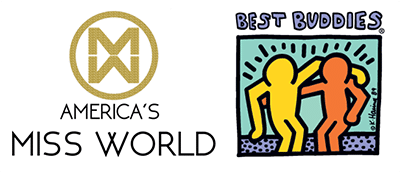 America's Miss World competition is teaming up with Best Buddies for the Beauty with a Purpose component of the competition, one of five categories the contestants are judged.
On Wednesday, August 9th, Best Buddies participants will be matched up with the contestants for a fun-filled day learning how to showcase their skills and abilities through a short speech. Candidates from America's Miss World will share their experiences on being in the public eye and tips on how to be confident while speaking and using social media appropriately.
Selected candidates from Miss World will showcase their talent and selected Best Buddies participants will read their speeches developed throughout the day.
All funds raised by contestants of America's Miss World will directly support Best Buddies programs that provide opportunity for one-to-one friendships, integrated employment, and leadership development for individuals with Intellectual and Developmental Disabilities (IDD).

Your donation will be doubled! Special thanks to the Dr. Phillips Charities that will match every dollar raised up to $20,000 in support of Best Buddies.
Donate in honor of a contestant: