Biking for Buddies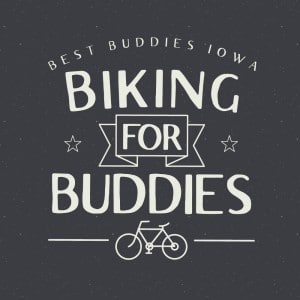 Saturday, September 21, 2019 
Kenny's Garage 
605 Ashworth Drive
Waukee, IA 50263
The Handlebar
1607 Sugar Grove Avenue
Dallas Center, IA 50063
Schedule:
9:00 AM–10:00 AM — Registration and breakfast at Kenny's Garage
10:00 AM — Bikers leave for Minburn
11:30 AM — Program and Lunch at The Handlebar in Dallas Center
1:00 PM — Bikers leave from Dallas Center to Waukee
2:00 PM — Music and drink specials at Kenny's
Riders will leave Waukee on the Raccoon River Bike Trail to Minburn (16 miles) and stop in Dallas Center (8 miles) for a short program with lunch at The Handlebar before completing the loop back to Waukee (26-miles total).
Grab your best buddy and join Best Buddies for the 3rd Annual Biking for Buddies Ride. Enjoy a 26-mile round trip ride from Waukee to Minburn along the Raccoon River Valley Bike Trail. Experience stops in Waukee, and Dallas Center with drink specials, entertainment, games, and prizes. The first 150 registrants will receive a giveaway at the event!
Registration is $40 in advance and $45 at the door.