Meet Jared & Halie – Cumberland High School
One-to-One Friendship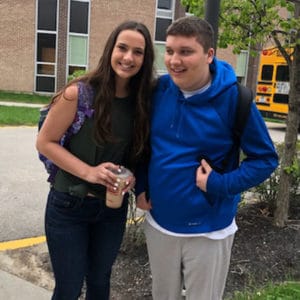 I was matched with Jared Plants sophomore year of high school. We have spent one year as buddies, and it has been a great experience. Jared has a vibrant personality and constantly makes me laugh and brightens my days. I look forward to the time we spend together both in and out of school.
In school, I often visit his class for an hour a week, where we watch music videos and football videos, along with interacting with his classmates. Jared's favorite thing to do is go out for ice cream; a love we both share. Jared and I constantly get frozen yogurt and ice cream and go for walks and paint together.
I can honestly say that joining the Best Buddies program has been the best decision of my high school career because of the constant joy and satisfaction being involved in such a positive program.
Jared and I have been not only Best Buddies but best friends for two years.
More than anything, I love seeing his face light up in the hallway when I walk by and knowing that we are both making a difference in each other's lives. Jared brightens my day whenever I spend time with him, and I know he does that for so many others as well.
Having such a strong Best Buddies program at Cumberland High School has impacted the environment at our school. I can confidently say that the majority of students in our school know every single one of our buddies by name, and many consider them friends. I am so proud of our chapter and its impact on changing the negative stigma around holding relationships with those with intellectual and developmental disabilities.
Halie Walton
Peer Buddy
Cumberland High School Best Buddies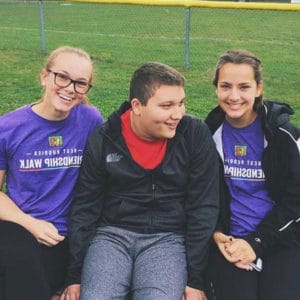 Halie and Jared are a perfect match and an exemplary model of the standards and values of the Best Buddies Organization. These two teens share inside jokes, laughs, and genuinely enjoy being around each other.
Halie is patient and encouraging towards Jared, and Jared really brings Halie out of her shell. They are an example to other students at CHS, as well as anyone involved in Best Buddies.
Nicole DeFazio
Faculty Advisor
Cumberland High School Best Buddies