Jobs Spotlight: Peter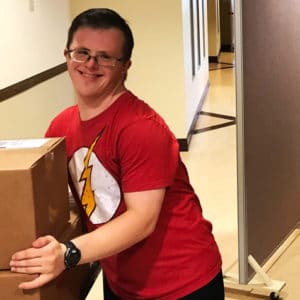 Peter joined the Best Buddies Jobs Program in the summer of 2018. He is also a member of the IUPUI Best Buddies Friendship program and was recently hired to work at Meals on Wheels in Indianapolis, where he helps prepare frozen meals for shipping. Peter attends the SITE (Skills for Independence Transition and Employment) program at IUPUI where he is in his second year. He participates in sessions that teach him the skills which will help him on the job and will lead him towards his long-term goal of independent living. All SITE students have a job or volunteer activities in the community.  In August we learned of a new service at Meals on Wheels and that their program structure included partnering with Down Syndrome Indiana (DSI) to recruit some of the employees for this project. The Meals on Wheels program is called Ryan's Meals for Life, named after Indiana native Ryan White. This program provides meals to persons with HIV/AIDS. Items are delivered state-wide.
Having been a familiar face as a volunteer at DSI, Peter was recommended to Meals on Wheels. The job offer came at a perfect time for Peter as he, his parents and school counselors were trying to piece together his fall schedule and were running into difficulties fitting everything into the week. With Peter working at the Meals on Wheels office in downtown Indianapolis, his schedule fell into place. Peter now takes the public bus to and from his activities at IUPUI, ArtMix, the Irsay YMCA and work.
Lisa Wells, Executive Director for DSI recently said, "I am just so thankful that the position with Meals on Wheels of Central Indiana is working for Peter! As you and I know, individuals with Down syndrome (or any disability) certainly have the ability to give back to the community through their work. Peter is a perfect example. Peter was an intern/volunteer in the DSI office. When I saw the work that the position entailed, I thought it would be a great fit for Peter's strengths and skill set."
Peter's typical tasks include adding packing peanuts and freezer bags filled with meals and ice packs into boxes, sealing the boxes, affixing mailing labels and making certain there a Keep Frozen sticker on every package. He then takes all of the ready to ship boxes and stacks them on a pallet or large dolly so they can be moved to the end of the building for the UPS driver to pick up at the end of the day.  Peter loves to show his strength carrying all the boxes.
During a recent shift coworker and Peter's job coach were touching base on Peter's progress. Dawson reported that "Peter was thrown into a busy job and he jumped right in and is always on top of it. Peter is a joy to be around."
Other tasks that Peter completes are stacking ice packs into the freezers, unloading the meals his coworkers' pick-up at the Eskenazi Hospital kitchen and breaking down boxes for recycling. In the future, Peter will be trained on the other steps in the meal-packing process so he will be able to work in any position.
When asked about his favorite part of the job, Peter exclaimed, "Everything! I can't pick just one thing."
In his spare time Peter works out to maintain his strength and endurance – he completed his first triathlon this summer. He is a terrific athlete. He loves to hang out with his friends in the IUPUI Best Buddies Chapter, play games on his phone and spend time with his girlfriend, just like any 21-year-old student.