Jobs Spotlight: Hugh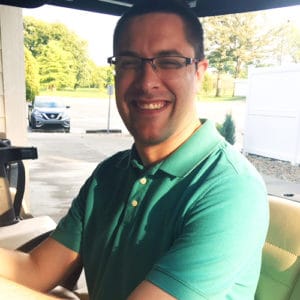 Hugh is an active and vibrant member of his community in Zionsville. He is also working hard to obtain his High School Diploma through the Excel Center located here in Indianapolis. Hugh is dedicated to many organizations in his community such as The Lion's Club, Special Olympics, The Hawk Foundation, and the Sunshine Social Club. Recently, Hugh became our newest Champion Campaign Manager for Marc Mullins from RTV6. Hugh is dedicated to spreading the Best Buddies Mission to his community, employers, and friends and we are lucky to have his participation in Champion of the Year 2018.
In the Best Buddies Jobs program, Hugh is dedicated to learning more about his own strengths and interests. Hugh currently works at the Golf Club of Indiana where he serves as a groundskeeper. Although he enjoys his job, Hugh is working diligently with Best Buddies to find a great employment match after he earns his Diploma with the Excel Center. Hugh and his job coaches at Best Buddies will test his skills, explore his community, and discover what great opportunities lie on the horizon. Hugh is excited to get started on his journey to a great career – and we are, too!