August 15, 2018, Miami – On August 5, 2018, Best Buddies International and Houseparty celebrated National Friendship Day by hosting a "party-thon" via the Houseparty App to raise funds and awareness for the organization's mission of friendship and inclusion for individuals with intellectual and developmental disabilities.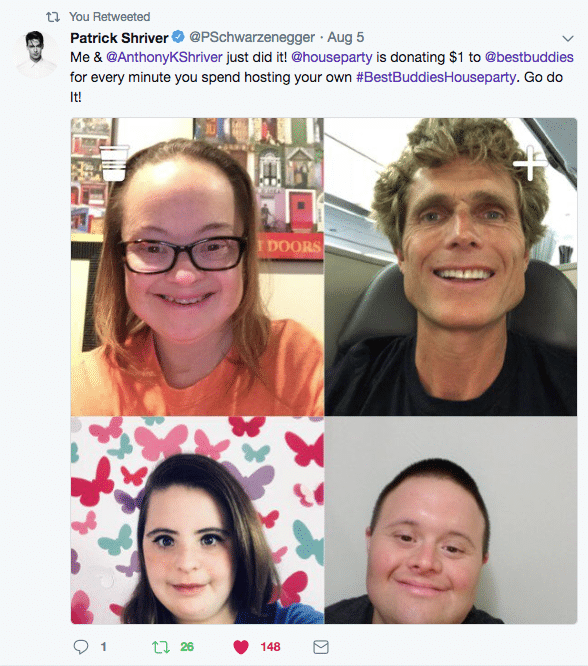 Houseparty is a group video chat app that allows users to communicate with up to eight people at the same time. The app makes connecting face to face effortless, alerting you when your friends are "in the house" and ready to chat so you can jump right into the conversation.
For every minute spent talking to friends in the app, Houseparty generously donated $1 to Best Buddies.
Actor and Best Buddies supporter Patrick Schwarzenegger joined the campaign by sharing with his fan base on Twitter, with Best Buddies also sharing the campaign on its social media platforms.
Houseparty leveraged their highly-engaged user base to increase awareness about Best Buddies and the party-thon by promoting to its social media platforms and creating in-app co-branded messaging to users when they opened the app on August 5th.
The campaign was a huge success and led to a great public response – thousands of users across the country had their very own Best Buddies Houseparty to raise funds and awareness for Best Buddies.
ABOUT BEST BUDDIES  INTERNATIONAL:
Best Buddies® is a nonprofit 501(c)(3) organization dedicated to establishing a global volunteer movement that creates opportunities for one-to-one friendships, integrated employment and leadership development for people with intellectual and developmental disabilities. Founded in 1989 by Anthony K. Shriver, Best Buddies is a vibrant organization that has grown from one original chapter to nearly 2,500 middle school, high school, and college chapters worldwide. Today, Best Buddies' eight formal programs — Middle Schools, High Schools, Colleges, Citizens, e-Buddies® , Jobs, Ambassadors, and Promoters — engage participants in each of the 50 states and in 50 countries, positively impacting the lives of more than 1.2 million people with and without disabilities around the world. In many cases, as a result of their involvement with Best Buddies, people with intellectual and developmental disabilities secure rewarding jobs, live on their own, become inspirational leaders, and make lifelong friendships. For more information, please visit www.bestbuddies.org, facebook.com/bestbuddies or twitter.com/bestbuddies.