Volunteer At Best Buddies Leadership Conference!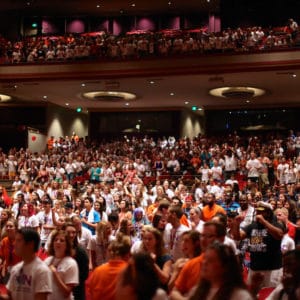 July 20-23, 2018
Indiana University
Bloomington, Indiana
Over the past 29 years, the Best Buddies Leadership Conference (BBLC) has inspired thousands of leaders to be Best Buddies advocates and to bring about social change in their communities. BBLC is a once in a lifetime experience that unites Best Buddies leaders, volunteers, and community advocates from around the globe. Conference attendees will gain knowledge in order to effectively take action both individually and as part of a group for a common cause while discovering the importance of their actions, responsibilities, and energy.
We need Volunteers like you for the weekend to ensure a successful weekend for all involved. Volunteers are needed as speech coaches, event set up and take down, airport greeters, registration, merchandise sales and more.
Click below to fill out an interest form and join us for an unforgettable weekend!
Volunteer Form