Meet Jackie and Taylor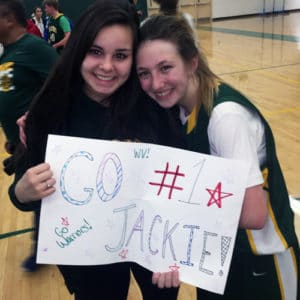 "Jackie and I first met last year in our adapted gym class, "Peer Partners", and our friendship has continued to grow since then. This year, we are still in Peer Partners together as well as Best Buddies and Special Olympics. We both consider the other our best friend, and we are extremely proud of our friendship. Jackie and I hang out multiple times a month, and we enjoy lots of girly activities like manicures and massages, as well as trips to get ice cream or lunch. We see each other every day in class, after school at Special Olympics practices or Best Buddies activities, and we text every day too.  We also love to support each other and cheer each other on. Last month, Jackie and I attended her Special Olympics swim meet where she won 2 gold medals.
I was extremely proud of her and how she displayed her talent! She said I was the one who helped her get those medals. This month, Jackie came to watch me perform in a show and cheered me on the whole time. To me, support is the most important element of a friendship, and Jackie and I mutually support each other in everything we do. I'm extremely proud of the things Jackie has accomplished and I can always tell that she's genuinely proud of me too. Jackie knows she can come to me whether she's sad or happy, or if she just needs a friend to talk to. Jackie is the most strong-willed and determined girl I know. She will always do anything she can to help out a friend. I will continue to support Jackie in everything she does, and I can't wait to see what she achieves in the future. I see her as such a smart, beautiful, courageous girl, and I hope I can help her see this in herself too.
Best Buddies has allowed me to connect with all different types of people and to love the fact that being different is not only okay, but it's the best thing you can be. The friendships I've made with my buddy, as well as other buddies in the club, are lifelong, and I will carry all the memories of these friendships with me forever. Best Buddies has also taught me the importance of simply being someone's friend. Sometimes we can take for granted how easy it is to make friends, and we forget that to someone, that's the one thing they've always wanted but was never able to have. Best Buddies allows for this opportunity. Not only for one person but for thousands and thousands of people. I think I've learned more about myself from my buddy than I would've learned from anyone else. Jackie and I are forever grateful for the memories and opportunities this club has provided us with, and she will always be my Best Buddy, as well as my best friend."
– Taylor Schuch, Waubonsie Valley High School