Spread the Word to End the Word Day
Best Buddies International and Special Olympics partner annually for Spread the Word to End the Word® Day. This international initiative aims to build awareness for society to stop and think about its use of the R-word and rally people to pledge respect toward all individuals, making the world a more accepting and inclusive place for all people. 
Since the inception nine years ago of Spread the Word to End the Word Day, tremendous progress has been made towards promoting inclusion for all and changing attitudes and perceptions about people with intellectual disabilities. Teens and young adults, specifically, are standing up for inclusion and respect for all at school and in their communities.
On March 7th, Best Buddies chapters across the state of Indiana hosted several awareness activities of their own. Bloomington High School South, Decatur Central High School, and Indiana University all had students sign a banner to pledge not to use the R-word. Bloomington High School South made posters to hang up around school to promote awareness surrounding the campaign.
Bloomington High School South had students sign their banner to pledge not to use the R-word!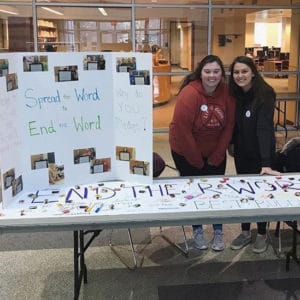 IU had a table out in the lobby of one of the campus buildings where students could stop by on the way to class!
The Ball State University chapter of Best Buddies hosted the first annual "Spread the Word to End the Word Banquet" on March 24th. The event was a success with over 150 people in attendance. Best Buddies Ambassador, Kelsey Rumschlag was asked to speak at the event and had the following to say regarding the R-word:
"Best Buddies has helped me to speak up for myself.  I used to be quiet, but I have gained a lot of confidence. I even had enough confidence to help teach a class for other Best Buddies Ambassadors at the Leadership Conference. I have learned to speak up, and now I can help others do the same thing.
One thing I speak up about is the "r-word."  The "r-word" is "retarded."  People use the "r-word" when someone does or says something that is not smart.  They use it as a put-down word.  This is very disrespectful for people who really do have trouble with reading, math, and understanding difficult things.
I have gotten so tired of hearing the "r-word" that I have asked people to stop.  Sometimes they stop using it, but sometimes they continue to say it.  If they keep saying it, I stop talking to them.  I plan to continue standing up for people with disabilities.
I am asking all of you to tell your friends and families how hurtful the "r-word" is.  Please remember to think before you speak."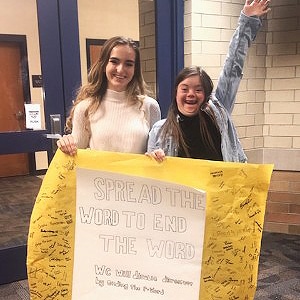 Decatur Central's Spread the Word to End The Word banner signing was a success!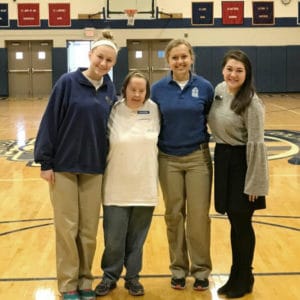 Best Buddies Ambassador and Butler Buddy Director Kylene gave a speech at Bishop Chatard High School!