Meet Jeremiah and Carson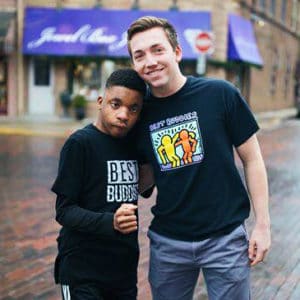 Jeremiah and I have been paired as Best Buddies for two years. Our friendship began at the Best Buddies Friendship Walk in 2016 when Jeremiah was just finishing middle school. After this, through being in class with Jeremiah for a period a day, we began our friendship. Through dancing, eating, and going to social events throughout Zionsville we have become great friends, and he is like another brother to me. Jeremiah's parents have shared countless times that they have seen growth in his maturity and progression in his independence due to our friendship.
Jeremiah's mom Alicia tells a story about how this progression started. "Carson asked to take Jeremiah to a Colts game and I was flabbergasted. I can remember him coming to our house to pick up Jeremiah like it was yesterday. My six-year-old daughter and I watched in amazement as Jeremiah and Carson got into his car. She said, 'Jeremiah is getting in the front seat! We never put him in the front seat'. We stared speechless, as he put on Jeremiah's seat belt and pulled off like he would with any other friend. It dawned on me that Jeremiah was old enough, tall enough, and weighed enough to sit in the front seat, but we never allowed him to. That day was just the beginning of what has become a priceless relationship attending school football games, community events, and hanging out together like any other high school friends".
Carson stated that he was "overwhelmed by the kind words his mother shared about our friendship.  It is an amazing feeling to know that just spending a few hours out of my day with Jeremiah has been "life-changing" for him. Throughout our friendship, I have seen Jeremiah become more and more of a social butterfly. Not only have I impacted his life but I never expected his impact on my life to be so huge".
"Best Buddies has given our Jeremiah David the unexpected gift of acceptance and belonging. We didn't pray for this, nor did we solicit it, yet we have embraced it and are eternally thankful. Best Buddies has given our 16-year-old with exceptional needs his first true friends" -Jeremiah's mom Alicia.