Meet Angie Cain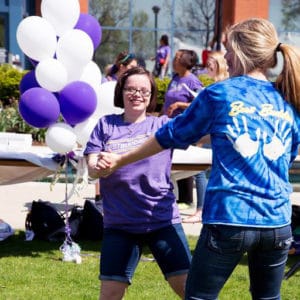 Best Buddies has given me the opportunity to become a great leader and to know what true friendship is. I started my journey with Best Buddies at the Butler University chapter in Indianapolis over ten years ago. I was their Buddy Director and really enjoyed being with other people my age.
Being a buddy director, a buddy ambassador, and an intern for Best Buddies Indiana has developed my leadership skills. These opportunities have taught me to how to advocate for myself and others with IDD. I love using social media like Facebook and Instagram to show others how can become better leaders and advocates through Best Buddies.
Best Buddies also showed me what true friendship means. I have been matched with my buddy Ashley in the Citizens program for a year now. We do so many fun things together in the community. I am myself when I am with Ashley.
Best Buddies means a lot to me. It has given me friendship, fun, and a family that believes in me.