Friendship Walk Kick-Off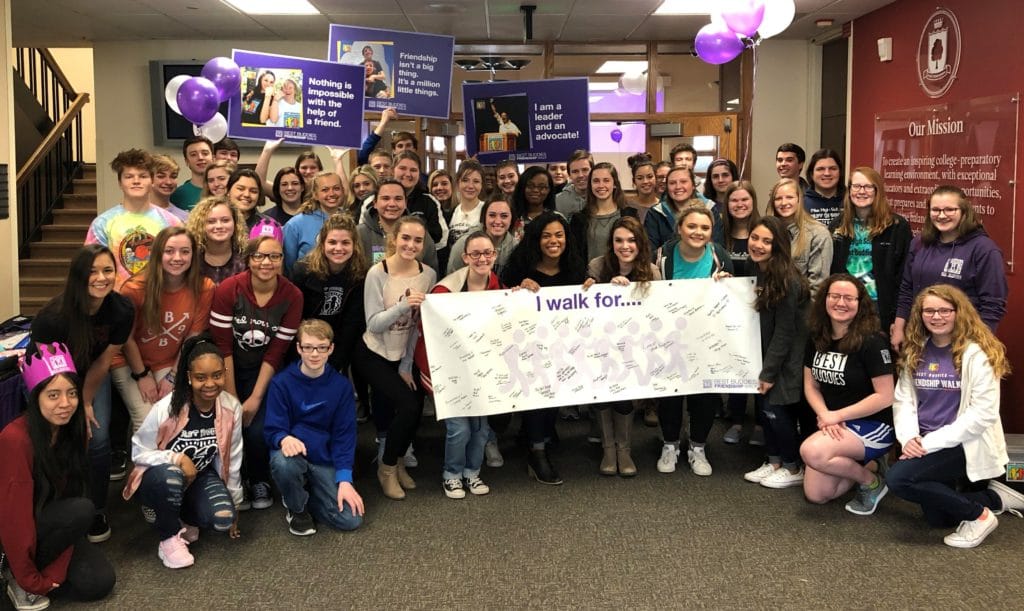 Here at Best Buddies Indiana, we kicked off February with our Friendship Walk Kick-Off! This year's Friendship Walk Kick-Off was hosted by Park Tudor School. Donations were received from Einstein Brothers Bagels, Entenmann's Bakery Outlet, and Trends International. There were roughly 120 people in attendance from chapter members to advisors.
Our Kick-Off began with a wonderful Mission Moment speech by Nick Mutchner and Ben Rewers from Hamilton Southeastern High School. Nick's speech shows the impact that Best Buddies has had on him this past year and highlights his relationship with Ben. Nick says, "We have peer tutoring which is the class where we come in and work with all the Best Buddies during school, it is something I started this year, and I look forward to seeing Ben and the other buddies every day. It's kind of sad that I didn't take it all four years of high school and didn't participate all four years of high school because it has made my life so much better and has benefitted, not only me but so many people around me. My little brother is now a freshman and I made him take peer tutoring this year; he already loves it." Best Buddies clearly has significance in Nick's life and his relationship with Ben has helped to cultivate this feeling. He states that his friendship with Ben is one he holds close to his heart. They enjoy playing Madden on Sundays and look forward to participating in Unified track together. At BBIN we are grateful that Nick and Ben were able to speak for our Mission Moment at the Friendship Walk Kick-Off.
There were three breakout sessions available to students during this Kick-Off, Incentives and Communication, Fundraising Brainstorming, and Register for the Walk. Students were able to brainstorm with each other on all aspects of leading their Friendship Walk Teams. In Incentives and Communication breakout students were able to identify which communication methods work best for their chapter and how to message the importance of the Walk at their school and in the community; as well as reviewing the local and national incentives available to all registered team members. The Fundraising Brainstorming session naturally allowed for brainstorming of different fundraising ideas between students and BBIN staff, in addition to highlighting the Best Buddies specific fundraising tasks such as the Footprint Fundraiser and the 1989 Letter campaign. During the Register for the Walk session students were able to register their Walk Team and themselves for the Friendship Walk, for students who already accomplished these tasks they were able to film "Why I Walk" videos to share with their chapter and on social media.
Many students have already commented how helpful they found the Kick-Off to be and they look forward to collaborating with students from other schools throughout the next two months.