Tampa Students Attend 28th Annual Best Buddies Leadership Conference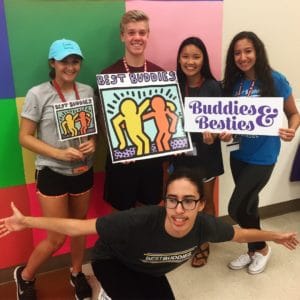 Every summer, the Best Buddies Leadership Conference (BBLC) is held in Indiana for all of our middle school, high school and college chapter leaders with and without intellectual and developmental disabilities (IDD). Students from all over the world come together to learn how to become advocates in their schools and in their community and bring about social change.
Some highlights from BBLC 2017 included:
 Opening ceremonies and closing ceremonies, with speeches from our founder and chairman, Anthony Kennedy Shriver, and several buddy ambassadors, including some from Tampa! Watch additional footage on Best Buddies International's Facebook page.
Our very own Kellie Howard, from the USF chapter, won the Spirit of Courage Award!
Our USF and St. Pete Catholic High School chapters were honored as Outstanding Chapters this year!
H.B Plant High School won an Outstanding Best Buddies Friendship Walk Award, for being one of the highest fundraising schools in the country!
Special performances from Lisa Smith, Marlena Vanhoose, and ReVoiced.
Meet and greets with Lauren Potter (Glee), Megan Bomgaars (Born This Way) and Anthony Kennedy Shriver.
Several programs break-out training sessions geared towards leadership development.
This year, Best Buddies Tampa was able to bring 37 student leaders, buddy ambassadors and Faculty Advisors to Leadership Conference! Our delegation had an amazing time this year! Here's what some of our attendees had to say:
Natalie Ricon, East Lake High School
I had such an incredible experience at LC. I learned that life is truly empowering when you're surrounded by love, passion, friendship, and inclusion. I was equipped with the knowledge and motivation needed to be an effective leader for my chapter in the upcoming year. Collaborating with other leaders from all across the state, nation, and world, who were each exceedingly passionate, compassionate, and friendly, allowed me to gain countless new ideas to bring back to my chapter.

Hearing all the speeches from the special guests and Buddy Ambassadors speaking to a crowd of over 2300 individuals ignited a new flame of passion within me for the mission of Best Buddies, and I was able to witness what it truly meant to feel empowered. Seeing so many people gathered together for such a great cause was incredibly moving. I met so many incredible people, and the memories, experience, love, inspiration, and information I gathered at the conference are things I will always carry with me.
Macey Morell, Wiregrass Ranch High School
My time at LC was life changing as you had explained before I even got to Indiana. I enjoyed every minute of it! I made so many great friendships with a lot of the people there. The atmosphere of the entire event was very friendly and positive even when we were exhausted or miserably hot. The opening ceremony and the closing ceremony were so touching and inspired me to want to spread our Best Buddies mission to as many people as I possibly can. I also learned so much useful information for when I will be chapter president. Overall, the trip was amazing and I would love to attend next year to experience it all over again.
Grace Hirshfeld, John Long Middle School
BBLC 2017 was an experience like no other, I never knew that I could learn so much in just four days. Since there were two people from my chapter there, both of our interpretations and perspectives on the information that was given will benefit the chapter greatly. The best part of the whole conference was definitely meeting students from all over the world and collaborating on all of our chapter ideas. I definitely want to come back next year!