The Madeira School Best Buddies Promoters Chapter Attends BBLC 2017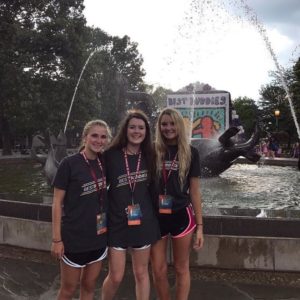 I have to admit that, initially, I was a little bit discouraged when I walked onto Indiana University's campus for the Best Buddies Leadership Conference. I have wanted to have a buddy for the entirety of high school, but as a Promoter school member, I felt less involved than my fellow Capital Region leaders who have buddies and lead friendship chapters.
However, once I was embraced by the warm, energizing spirit of opening ceremonies, I began to see that being an ally for people with disabilities is a wonderful thing in itself. If you are fighting in your community for inclusion, that is all that matters, you do not need proof of all the amazing progress you have made and will continue to make!
I woke up Saturday morning still dancing to the DJ's playlist from the night before and more excited than ever to join my Capitol Region peers in dreaming up fun and beneficial ways to create stronger friendships and spread the message of inclusivity throughout the year. I still wasn't quite sure how a whole region of leaders could pare down and organize all of our amazing ideas, but with Rachel, our program manager, we figured it out!
Rachel split us into Promoter chapters and School Friendship chapters, asking Promoter chapters to figure out how to make the best use of our time together. We all knew that the typical thing to do would be to discuss what a Promoter chapter is and how it can make an impact, but instead of talking about what they should do, we talked about what ours will do.
We agreed upon new "requirements": each chapter must hold their own event open to the School Friendship chapters and all of the Promoter chapters must work together to put on one spectacular event for Best Buddies Capitol Region as a whole. Doubt in our chapters became confidence in our abilities; hope became a burning desire.
Each chapter brainstormed an idea for their own event, which we wrote up in a calendar that spread these events over the course of the year. We aren't going to let a dull moment pass under our watch! After every month was bursting with possibility, we focused on planning our group event (which is a surprise for now!), making committees, throwing out ideas for possible sponsors, and writing up a schedule for the year.
By the end of our session, we were all SO excited to get working, playing, and dancing, and we can not wait to show the Capital Region what Best Buddies is all about!
Jojo Lundquist
Chapter President, The Madeira School
---
For more information about School Friendship or Ambassadors programs, please e-mail Rachel Letters or call (703) 533-9420.