By Laurie Everett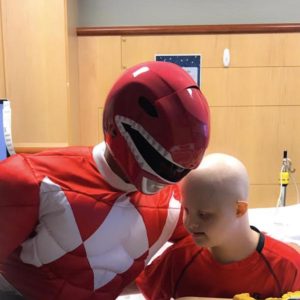 When Jackson Dunlap looked up from his hospital bed he couldn't believe his eyes.
There, in person, was his favorite super hero. The Red Power Ranger, in full flesh, quickly walked to his bed and gave the shocked 13-year-old a big hug.
Jackson is battling his second round of leukemia at Vanderbilt Children's Hospital and his parents Joe and Dietra said their son's only wish was a visit from the Red Power Ranger.
Mt. Juliet High School upcoming senior Jesyah White is a bit of a super hero himself. He made Jackson's dream come true and Jackson's parents said the young man behind the suit is their super hero because he took the time to visit their son and made his eyes light up brighter than they've seen in a long while.
Jesyah is humble almost to a fault. He got the fun and touching gig to surprise Jackson when his former Mt. Juliet Middle School teacher Lisa Haskell reached out and asked if he could be the Red Ranger for a bit of time to help brighten the spirits of a little boy who has conquered the odds -perhaps more than most who've lived decades longer.
Jackson has Down Syndrome and his gentle nature is what brought tears to Jesyah's eyes as they visited each other. Jesyah, who was teaching Bible School last week and conveyed the short visit while on break, is no stranger to Down Syndrome. His cousin Tray has Downs Syndrome as well.
"And, joined Best Buddies International when I was in seventh grade and had Lisa Haskell as a teacher," Jesyah said of the nonprofit organization that pairs volunteers with people who have intellectual and developmental disabilities.
Jesyah has a heart for kids with special needs, he said. That's why he jumped at the chance to make a little boy's dream come true and morphed into the Red Ranger for about 20 minutes. Lisa remembered him after all these years to ask this favor. These days she's the volunteer coordinator for the Down Syndrome Association of Middle Tennessee.
"We received word that little Jackson was at Vanderbilt Children's Hospital battling his second round of leukemia and all he wanted was a visit from the Red Power Ranger," she said. "We know many super heroes, but could not find a Red Ranger anywhere, Jesyah is one of my former students from when I taught at MJMS. He was an excellent peer mentor and a true friend to those with special needs in our school. He always went above and beyond and has such a caring heart."
So she tracked down Jesyah and made a phone call, fingers crossed behind her back. And, just like a super hero, Jesyah didn't hesitate a second. Lisa then finally found a Red Ranger suit and Jesyah was on his way to surprise Jackson.
"Jackson was surrounded by Power Rangers in his hospital room," laughed Jesyah. "He even had a Power Ranger blanket, and get this, when I walked into his room he was watching Power Rangers."
Jesyah said the young boy was "super shocked," to see Red Ranger in the flesh.
"He said, 'It's the Red Ranger!'" Jackson recalled. "He put on his own Red Ranger mask and behind that he could not stop grinning. It warmed my heart."
Jesyah only stayed about 20 minutes.
"He was a little weak from treatment," he said of Jackson. "But, as we know, he's a strong, strong kid and has been through a lot. I loved helping him in this small way.
Jackson parents said it was a huge way, actually.
"I can't believe they pulled it off and Jesyah took the time and trouble to come to the hospital," said Jackson's dad. "He [Jackson] just loves the Red Ranger and was absolutely thrilled. Jesyah was so cordial, nice and sweet."
Joe said their son was diagnosed with leukemia when he was 3-years old and after a hard fought battle he was clinically cured. He had a relapsed on March 7 and is in treatment again.
"He's a real powerhouse though," said Joe.
And while Jesyah got to be a Red Power Ranger for a short while, he's a powerhouse, too, in his love for those with Down Syndrome. He visits with Tray about twice a month.
"He's two days younger than me," Jesyah said Tray. "We are both so goofy. We like to bowl and go to the Pred's games together. We are into the Smoothie King these days."
And though Jackson didn't get a smoothie from new friend Jesyah during the Red Ranger visit, he got something much sweeter, his own super hero who is to many also a humble hero in real life.
To read the full story click here.