​​​​​​​Best Buddies Citizens Program Comes to Memphis
Best Buddies Citizens – A Life Changing Program for Adults with intellectual and developmental disabilities (IDD) Makes its Way to Memphis
Best Buddies Citizens is one of the key programs represented in Best Buddies' Friendship Program outreach. Our Citizens program pairs an adult with IDD in a one-to-one friendship with an adult without IDD from their local community.
Since 2013, Best Buddies in Memphis has focused on expanding our School Friendship program from 5 active schools to over 30 schools representing successful Best Buddies chapters in the Mid-South to date. Seeing firsthand the ability our school friendship program has in enhancing the lives of individuals with IDD at an elementary, middle, high and collegiate level propelled our mission to bring 'Citizens' for adults to Memphis.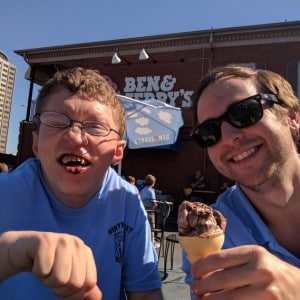 In February 2017, Hunter Swain (21) and Scott Wisniewski (26) were matched by Best Buddies Citizens. This monumental pair marks the first official match for our Citizens program in Memphis. From attending Best Buddies Prom, to cheering on their favorite sports team at a local game, to a trip to Ben & Jerry's for "Free Cone Day" and to the movies to catch Disney's new live-action film, "Beauty and the Beast" … in just a few short weeks, these two have already shared numerous unforgettable experiences while making lifelong memories.
"Scott is my new friend. We like to laugh, hang out, go to movies, eat food and talk about what flavor of soda we like. Scott makes me happy, and being happy is fun!"

-Hunter Swain (Best Buddies, Citizens)

"Despite wearing opposing tem gear at our initial meet, Hunter and I have quickly become Best Buddies! Our first event together was Best Buddies Prom. Early in the night, it was clear that I was paired with a local celebrity! While I was a little nervous at first, Hunter made sure I felt right at home. Since then, we've been able to hang out, go to the movies and discuss his love for hot (but not too hot) sauce over lunch. He was also very excited to learn that I sometimes work at Le Bonheur and he told me all his experiences with the MRI machine. Hunter and I are thrilled with the arrival of warmer weather and hope to make it to the Memphis Zoo or a Redbirds game soon!"

-Scott Wisniewski (Best Buddies, Citizens)
If you are interested in participating in Citizens please complete a Membership Application online at bestbuddiesonline.org/citizens.
If you would like more information or have any questions or concerns about the program, please contact Citizens Program Manager Cody Hanford at (901) 937-0005.