Best Buddies Friendship Walk Kicks Off for April 23 Event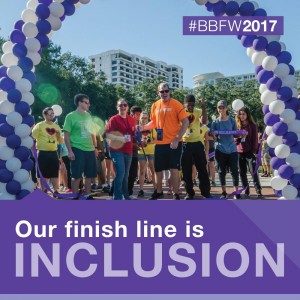 In preparation for April 23rd's Best Buddies Friendship Walk and 5K competitive run, the BBFW committee hosted a kick-off at the training facility of the Indianapolis Colts. Over 75 people attended representing 8 Middle Schools, 15 High Schools, and 5 Colleges. The morning event helped teams create their own walk fundraising strategies through many activity stations.
The event started with a brilliantly delivered mission moment from Kelsey and Chelsie of the Butler University Chapter. Fueled by two enormous boxes of square donuts, those assembled broke into small groups to brainstorm fundraising ideas at their schools, made videos to share on social media, engaged in some "minute to win it" games to clear their minds between other sessions.
All participants regrouped to work through an action plan for their walk team using ideas they had learned throughout the day.  Members of each group took to the microphone to share their plans with the group.
The event ended with some Best Buddies swag, restaurant gift certificates and boxes of candy being awarded as door prizes and a room full of leaders ready to create excellent Best Buddies Friendship Walk teams at their schools.