Buddy Spotlight: Levi Pitcock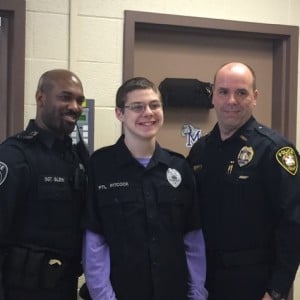 Levi Pitcock is a sophomore at Milan High School where he is an active member of Best Buddies. With an avid love for law enforcement, Levi often refers to himself as "Agent Levi". In fact, a teacher of Levi's handmade a name badge proudly displaying this title for him to wear around campus.
As word of Levi's love for all things law enforcement spread, the Best Buddies chapter at MHS teamed up with Sgt. Nick Glenn of the Milan Police Department to plan something extra special for Levi. Thanks to some incredible friends, teachers, mentors and supporters within his school and community, Levi was officially named an honorary member of the Milan Police Department, complete with an authentic police uniform and brand-new name badge!
Since his involvement with Best Buddies, Levi has really come out of his shell and is known by everyone at Milan High School and throughout our community. It truly is a blessing to see the amazing things that happen with Best Buddies!

– April Gonzales (Faculty Advisor – Best Buddies Milan High School)