By Jameson Olive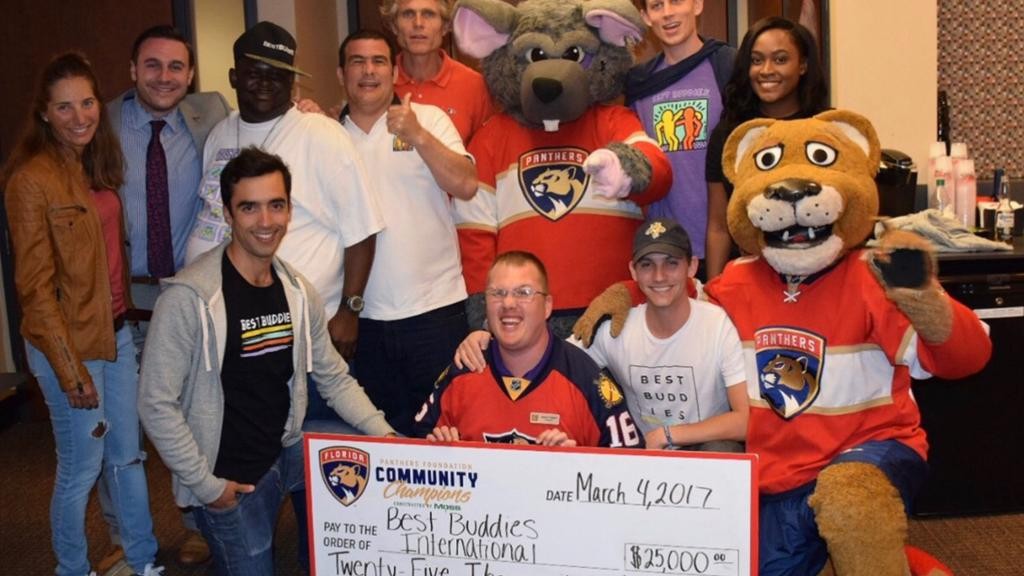 SUNRISE, Fla. – As part of a continued commitment to improving the local community, the Florida Panthers Foundation Community Champions Grant Program, presented by Moss Construction and the Moss Foundation, awarded $25,000 to Best Buddies on Saturday night.
The world's largest organization dedicated to ending the social, physical and economic isolation of the over 200 million people living with intellectual and developmental disabilities (IDD), Best Buddies programs engage participants in each of the 50 United States and in over 50 countries around the world.
Founded in 1989 by Anthony K. Shriver, Best Buddies has grown from one original chapter at Georgetown University to almost 1,900 chapters worldwide, positively impacting the lives of over 900,000 people with and without IDD.
The IDD community that Best Buddies serves includes, but is not limited to, people with Down syndrome, fragile X syndrome, autism, Williams syndrome, cerebral palsy, traumatic brain injury and other undiagnosed disabilities.
"We have a great mentoring program," Shriver said. "It's our goal to help these people live incredibly rich and fulfilling lives, while at the same time having them enrich our own lives. We're in over 2,000 schools around the world and have a great job placement program as well. We've gotten great support in the South Florida community and hope to continue expanding."
Initially, Best Buddies was built with the intention of creating numerous lifelong friendships between people with and without IDD, offering social mentoring while improving the quality of life and level of inclusion for a population that is often isolated and excluded.
Since then, however, the company has expanded into both the workforce and schools, launching Best Buddies High School, Best Buddies Middle School, e-Buddies and Best Buddies Jobs, a supported employment program that targets high-paying, corporate jobs for people living with IDD.
The majority of adults with IDD are either unemployed or underemployed, despite their ability, desire, and willingness to engage in meaningful work in the community. In January 2010, the United States Bureau of Labor Statistics (BLS) reported that percentage of people with disabilities in the labor force was 21.8 percent, compared with 70.1 percent for people with no disability.
As of 2015, Best Buddies Jobs participants in the United States work an average of 806,491 hours per year and earn approximately $9.6 million combined annually.
"We have a great job placement program," Shriver said. "It's incredibly important to find competitive employment for people with IDD. These are jobs where they can make $30,000 or $40,000 per year with full health benefits and pension plans.
"The job program really transforms lives. When people get to be the age of 22 or 23, they really fall out of the system. They're out of school and they don't really have a path for their future. Really, their path is employment. It's a big, big issue. They have a lot of capacity and we've found they can be incredible employees when they have the right job. It's our job to find the jobs and train them so they have success."
A longtime member of the Best Buddies program, Jorge Morilla has been working at a local Hyatt Hotel for just over 20 years, thriving in his position and continuing to enjoy the various opportunities that the organization presents him.
"It's worked really well for me," said Morilla, who was Shriver's special guest at the game. "Recently, I got my 20-year award from the Hyatt and my 20-year plaque, even though I didn't make it to the actual awards reception. I was able to do a lot of things because of Best Buddies, mostly go to Heat and Dolphins games. I've been to a few Marlins games and this is my third Panthers game in my life."
In 2011, Best Buddies created the 2020 initiative, with the goal of opening offices in all 50 states by the end of 2020. The initiative also includes plans to train 4,000 Buddy Ambassadors, develop 1,000 jobs for people with IDD around the world, and increase the number of school-based chapters to 2,500.
"The ultimate goal is to put ourselves out of business," Shriver said. "We want to get to a point where we don't have to find jobs for people with IDD, where the system already develops it and people are developing companies with HR departments that recognize the value of people with intellectual disabilities."
To read the full story click here.