Tommy McFly, Capital Region Schools Unite In Ending the R-word
Bishop Ireton High School
This year for Spread the Word to End the Word, we changed it from a day long celebration to a week long one! Best Buddies members went all out to decorate the windows, library, and hallways of our school for the week. We had a bake sale Tuesday and will be selling awesome neon t-shirts all week. Like past years, we will be getting all the students at lunch to sign a pledge on Wednesday and we will make a chain out of them to hang up.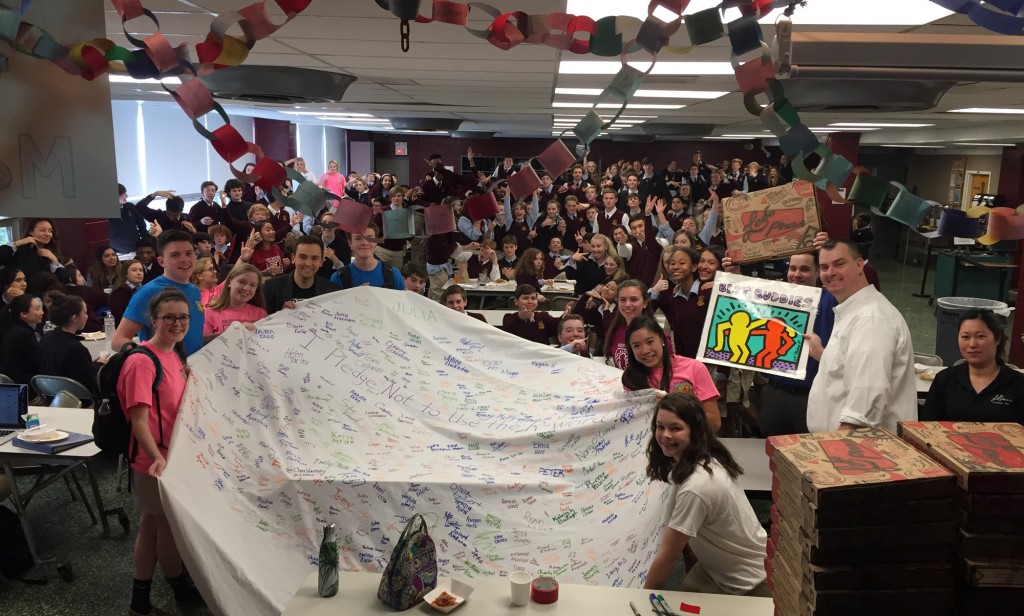 From the pledges, we will have a raffle. The culmination of our Spread the Work celebration is when Tommy McFly visits during lunch and everyone wears their Best Buddies t-shirt in support. Spread the Word to End the Word is such an important day because we, as a community, need to promote inclusive and positive language and stomp out negativity in order to show respect and create friendships.
West Potomac High School
On Wednesday March 1, West Potomac High School's Best Buddies chapter held their Spread the Word to End the Word event .  Crowds of students swarmed the giant blue banner and pledged their support to stop using the r-word, Ledo Pizza fed the whole school, and 94.7 Fresh FM Morning Show Host – and Capital Region Board Chair –  Tommy McFly spoke to the students about the importance of retiring the r-word.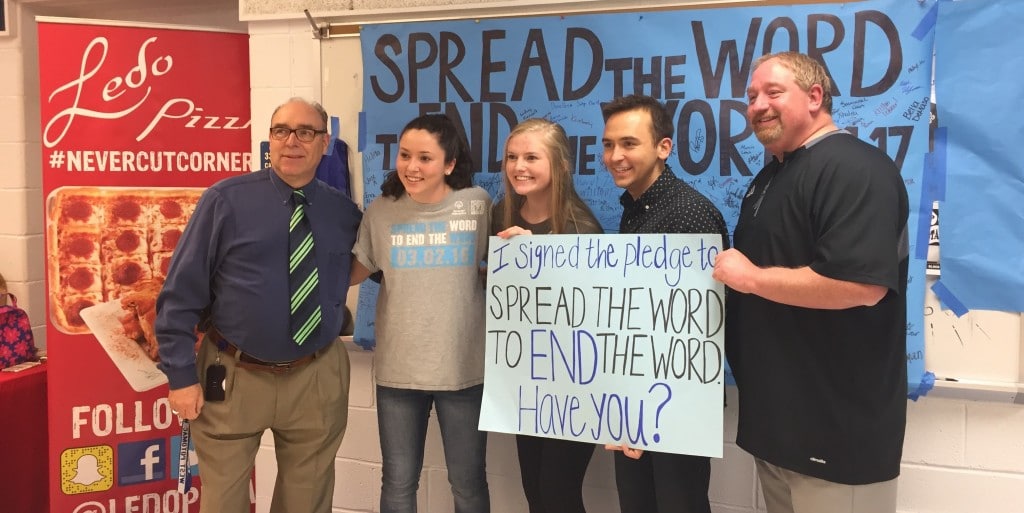 Yorktown High School
Hi! My name is Minh and I am a student at Yorktown High school. Throughout my life I have heard a lot of bad comments about other people with disabilities and racism. Every time I heard those words, it makes me feel angry and I should have done something to end it. Today is the day that I want to end this situation. We should not use the r-word. The r-word is the word "retarded". The r-word is sometimes used to describe people with disabilities and is sometimes used to mean stupid, but these are both offensive to people. Everybody has feelings and they don't want to be hurtful. So I hope this letter will stop people from being mean to people with disabilities.