Utah Governor Says: "I'm IN"
Utah Governor Gary R. Herbert invited his Best Buddies Utah team to the Capitol on Wednesday, September 9 to spend a morning visiting and sharing and planning for the future.
"To me, Best Buddies is a wonderful organization focused on supporting folks through relationship development, leadership and employment, the governor said. I can tell you, I am IN. I will do whatever I can to spread the word and help get Utahns engaged with this valuable group."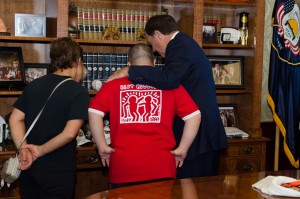 Included in the group that visited the Governor's Office were Best Buddies Utah Board Members Guler Banford, Brian Maxwell and Donna Gunn. But the hit of the day was the interaction between the governor and his buddy, Brett.
"One of the things I think people recognize right away about the governor is his huge heart and passion for service, said Board Member Brian Maxwell. His interactions with his Buddy, Brett, just go to show that he means it when he says he is a supporter of Best Buddies. All of us involved in Best Buddies share the passion of our mission and are honored to count Governor Herbert as a member of the team."