Meet Donna Gunn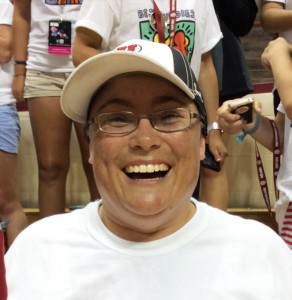 "Prior to Best Buddies I could not explain what it was like to live with autism. My parents tried to enroll me in schools catering to students with special needs and I eventually enrolled in St. Michael's special school in New Orleans. From 1988 to 1998, I was able to expand my knowledge and learn about community service. I also took part in the Special Olympics program and performed with the school choir. In 2003, I moved to Utah to create a better life for myself and to prove to my friends and family back home that I could make it on my own. I joined Best Buddies in 2007 and volunteered my services at the state office for the first few years.
"Justin Hassckle first approached me about being a leader because he likes how productive and organized I am. He thought I could play a key role as a volunteer with the chapter. As a volunteer, I wanted to be a leader for the buddies and I had ideas, which I thought would help them enjoy the program more. Looking ahead, I hope to grow the number of buddy pairs and members in our chapter, and I want every student at the University of Utah to know about Best Buddies.
Additionally, my goal is to do more public speaking on behalf of Best Buddies across the country. In doing this, I hope to encourage more sponsors to get on board and generate support from the community to help this organization grow.
"Since joining Best Buddies, now I am known throughout several organizations such as Autism Speaks, Salt Lake Comic Con, and Fantasy Con. In these new social groups, I am able to promote Best Buddies' mission of friendship and inclusion. I am also more confident and outgoing since I joined Best Buddies. In 2008 I became an Ambassador for Best Buddies and I would like to see future Ambassadors serve as leaders and exemplify the true meaning of love, friendship and unity. I am so thankful to Best Buddies for making my life so much better and for giving me a chance to show what I can really do to help myself and so many more people reach their potential."