Meet Casey Stencil & Carlos Morales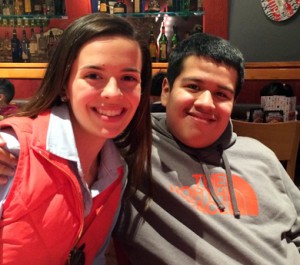 "Carlos and I met in the 2013-2014 school year—our first year participating in Best Buddies—at Howard High School. After forming a friendship almost instantly, I knew Carlos and I were destined to be a buddy pair. Before Best Buddies, Carlos did not participate in any clubs or allied sports, and decided to join Best Buddies because he enjoys meeting new people and having fun. I decided to join Best Buddies because I heard they hosted fun events and everyone was so friendly. Through Best Buddies, Carlos and I both hoped to meet new friends and form stronger friendships with people that we might have not met in classes or at lunch. Now, Carlos and I share lunch together once or twice a week and greet each other with open arms and smiles every morning.
"Ms. Parsons, our teacher advisor for Best Buddies says, 'Excitement shines through in Carlos' eyes when he spies his buddy down the crowded hallway. A huge smile erupts across Casey's face when Carlos walks her way'. Ms. Curtin, also a teacher advisor, shared, the positivity and joy they bring to Howard High School as best buddies is powerful. 'Whenever a student, teacher, or staff member sees them hanging out, he/she cant help but smile and notice the special connection they share. So many young friendships never leave the school campus; however, that is not the case with this friendship.' Carlos and I have taken our friendship outside of school and into our everyday lives.
"Best Buddies has changed Carlos life. He loves hanging out with everyone at events and taking lots of photos to capture the moment. Our friend Val, also the secretary for Howard Highs Best Buddies said, 'Carlos gets so enthusiastic when telling us about the activities he does with Casey! He is always so energetic and he puts a smile on everyones face. Casey talks so highly of Carlos…it is obvious they share an appreciation for each other.'
"Best Buddies has changed my life because I became the chapter president at Howard High School and an intern for Best Buddies Maryland. These are both extraordinary opportunities that allow me to embrace what I love every day of the week. When I asked Carlos what his favorite part about our friendship was, he said, enjoying fun times, funny jokes and always being excited to see each other. Our friendship is full of excitement and enthusiasm—there is never a dull moment; I cannot wait to see what our flourishingfriendship as in store for the future."