Meet Daniel Noltemeyer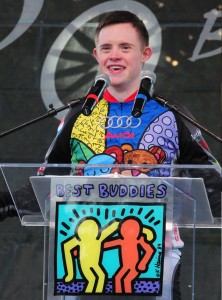 Daniel helped found Best Buddies Kentucky in 2009. He currently serves as a Best Buddies Ambassador at local, state, and national events; and also participates in the Best Buddies College Program at Bellarmine University. Daniel was a mission partner for Champion of the Year 2018.
Daniel embodies the Best Buddies mission because he takes an active role in our organization's global volunteer movement to create social change for people with intellectual and developmental disabilities. He is engaged in a one-to-one friendship with his buddy, Tyler –demonstrating that people with disabilities can make meaningful and important relationships; he manages two paid employment positions – showing the community that he is a skilled worker; and he is a leader and advocate for the Disability Rights Movement, which he displays through public speaking at the local, state and national level.
Daniel became involved in Best Buddies Kentucky through his brother, who served as a Faculty Advisor for the Best Buddies chapter at Centre College in Danville, Kentucky. Once Daniel heard about Best Buddies, he became involved with the University of Louisville chapter, where he served as the Buddy Director. Best Buddies International Founder and Chairman, Anthony Kennedy Shriver, contacted Daniel and asked him to participate in the organizations annual Leadership Conference on the Buddy Ambassador Track. Since Daniels first Leadership Conference, he has gone on to advocate for people with disabilities throughout the nation, as well as within Kentucky.
Daniels mother, Lois Hart, said,
"Heres a person with IDD that can say, Hey, look at me- I have gifts, I have talents, and I am here to make a difference in the world."
When Daniel speaks on behalf of Best Buddies, he shares his personal story of social isolation and bullying, and why Best Buddies is so important to him because he now is included within his community. He talks about his two jobs, and wants people to know that his disability does not matter when it comes to work; he is a hard worker, enjoys his work, and loves contributing at his workplaces.
Daniel also enjoys volunteering and wants people to know that people with disabilities love taking part in giving back to their communities. In fact, Daniel has been recognized both locally and nationally for his service to Best Buddies! He was a finalist in Louisville's 2013 New Faces of Philanthropy Campaign (November 2013), and most recently was awarded the 2014 Betty Jane France Humanitarian Award, presented by the NASCAR Foundation (December 2014). Daniel was one of four national finalists for the NASCAR Foundations highest honor and was selected as the winner through online votes. His win was huge both for him personally and as a testament to society that people with disabilities are strong and compassionate leaders. His win also garnered a $100,000 grant awarded to Best Buddies Kentucky for the purpose of expanding into more schools within the state.
Tyler and Daniel like to watch movies, go out to eat & hang out at Daniel's apartment.
Daniel continues to speak about STW, BB & the impact people with IDD can make; he attends Leadership Conference every year.