Pendleton Heights High School Holds Annual Respect Walk & Challenge Run
On Sunday, November 8th, Pendleton Heights High School (PHHS) Best Buddies hosted a Respect Walk and Challenge Run at Falls Park. Over 180 people, including students from surrounding Best Buddies chapters, showed up to support the mission of Best Buddies. What a great way to spread awareness in the community!
The colorful t-shirt for the walk was designed by three of the buddies in PHHS Best Buddies chapter, which added a nice personal touch. There was also a huge banner that hung across the main street in Pendleton to promote Best Buddies and the Walk & Challenge Run.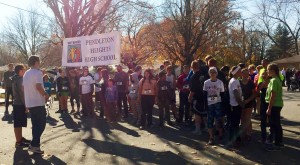 The Respect Walk kicked off with a speech given by Blair Patton, a current Best Buddies Ambassador, a matched Citizens participant and PHHS alum. He shared his story about how Best Buddies has impacted his life and encouraged everyone to use people first language and stop using the r-word.
The course was marked with signs that described some of the challenges people with IDD face and at each obstacle on the Challenge Run the participants were to reflect on that challenge while completing the obstacle. PHHS Chapter President, Zach Dickey, said the day was a lot of fun and it was great seeing so many people participate. This event truly helped raise awareness and that alone makes it a successful day!