Meet Sally Ancheva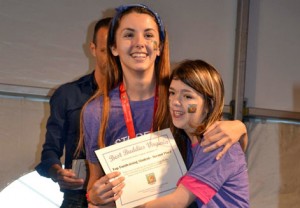 "Before Best Buddies, I didn't know there were people out there who, like me, wanted to work towards the inclusion of people with intellectual and developmental disabilities (IDD). Growing up with a sister with cerebral palsy, I thought I was the only one with a family member with disabilities. My sister joined Best Buddies before I did, at her high school, and would always tell me about the fun events she attended.
"When I began high school at Washington-Lee in 2012, I knew I wanted to join Best Buddies and see why my sister loved it so much. Getting the chance to meet my buddy William has changed my life. Our friendship has formed just like any other friendship – slowly at first and then it just took off and before either of us knew it, we were best friends. Joining Best Buddies, in general, has changed my life. At any Best Buddies event, I feel such happiness knowing I am surrounded by people who have the same goals and beliefs as me when it comes to the inclusion of people with IDD.
"I became chapter president in 2014 with high hopes of improving our club even more. Having already been recognized as one of Virginia's outstanding chapters (and one of the largest!), I have to keep up our reputation and make sure everyone in the club has an even better year than they did last year. In 2014 we increased our membership numbers from last year, and have 125 members, 90 of them being associate members. We also have 17 buddy matches, all doing very well and growing into genuine friendships. For the Audi Best Buddies Challenge: Washington, D.C. Student Fun Run, we won top fundraising team (we raised over $6,000!), Second Largest Team and Most Adult Participation. As for me, I won the Second Top Individual Fundraiser award, having raised over $800 on my own. Since the 5K, we have had many successful events, and are looking forward to many more. One of our goals is to continue our club's success by making sure people continue to stay involved throughout the whole school year, not just in the beginning. We also want to place a larger focus on what the buddies want, and will do this by involving the Buddy Director in every decision we make.
"Lastly, our overall mission, just like that of Best Buddies International, is to one day have a high school environment where Best Buddies is no longer needed and students with IDD are included just like everyone else."