Elise Hirt Wins Mary Strobel Volunteer Award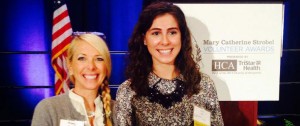 Elise Hirt, chapter president at Centennial High School, was honored at the Mary Catherine Strobel Volunteer Awards Luncheon on Tuesday, April 22. Elise received the Youth Volunteer Award presented by Baptist Healing Trust for her years of leadership the Best Buddies Centennial chapter.
The Centennial Best Buddies Chapter began because of Elise's efforts over three years ago. Before she was even a student at the school, she met with the school's faculty to discuss how Centennial would benefit from having a Best Buddies chapter within the school. The program officially opened in time for Elise's freshman year when she assumed the position of Chapter President.
In her three years as president, Elise has increased the membership by over three times. More importantly, however, she has truly changed the culture of Centennial High School regarding students with intellectual and developmental disabilities. They are included in school events, extracurriculars, celebrated for their achievements, and simply treated as an average member of the student body.
The change doesn't just end within the confines of the high school. The changing culture has trickled down to students' families, friends and has had an impact on the surrounding community. And this all began with Elise. Congratulations Elise! You are such an inspiration to everyone around you!