Meet Reagan Vice & Wes Swainston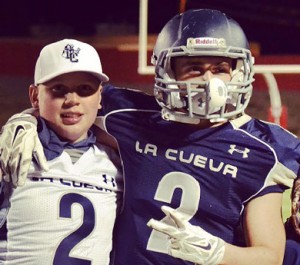 The friendship between Reagan and his peer buddy Wes is a great representation of the value of our one-to-one friendship mission and its positive impact on our volunteer's lives. Prior to joining Best Buddies, Reagan mostly kept to himself and rarely talked to anyone at school while Wes focused on his own achievements and socialized with a limited network of his peers in his own classes. The pair instantly "hit it off" when they met during the time Wes became a student aid in Reagan's class.
Wes and Reagan worked together on class assignments and eventually started hanging out after school. Now Reagan independently offers to help his classmates with homework and actively pursues making new friends. Wes expresses great satisfaction from helping others and has become a leader among his peers in reaching out to connect with others in the entire student body. In a speech given at a recent Best Buddies fundraiser, Reagan introduced Wes to the audience as "the brother he never had." The incredible natural and mutually rewarding connection the two share is evident to anyone who meets this pair.
Before joining Best Buddies Reagan did not hang out with other students and would spend most of his time out of school with his family. When Best Buddies opened a school Friendship program at La Cueva High School it posed a new opportunity for him to come out of his shell and meet different people outside of his class. Going to events such as prom or hanging out with a group of friends at a football game were not a normal part of his life before becoming a buddy. When Reagan and Wes met, all of this changed.
Reagan goes to every football game with Wes while sporting Wes's number on his own jersey. Last year, Reagan went to the Best Buddies Prom for the first time and had so much fun that he even asked his parents to stay out later. Wes and Reagan are always at each other's houses spending time with their families, watching movies, eating pizza and playing with Legos. Their families have merged as a result of their friendship and Wes is going on a family trip with Reagan to Washington, D.C. in the spring. They also enjoy hanging out with Wes's friend Hank and Hank's buddy Ethan. They go to the aquarium together and attend Best Buddies chapter events together.
Reagan feels that his friendship with Wes has taught him "kindness, how to make good choices, be a good friend and not feel nervous around others." Most of all, being in Best Buddies has shown Reagan that the people, who truly care about you in life, love you for who you are.