Meet Paul Brooks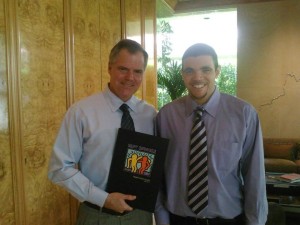 Paul began his journey with Best Buddies Nevada as a Friendship and Ambassador participant, but began his career path with Best Buddies Jobs as the Jobs program assistant in January, 2014. Paul gained transferrable skills that he included on his resume and learned the importance of professionalism. When the Best Buddies / MGM Resorts International Internship-To-Work program began, he was hand-picked to interview at the Bellagio Resorts and Casino for the Gym Attendant position. With the support of Best Buddies Jobs, Paul aced his interview and began a new chapter in his career path on September 9, 2014.
As a Gym Attendant, Paul ensures the guests who enter the Fitness Center at Bellagio feel welcomed and have everything they need to enjoy their workout. When you enter the gym, Paul offers you a towel, helps you with a locker, and hands you an iced towel to cool you down during your workout. Paul is always on the move. If he's not assisting a guest, he's stocking headsets and folding towels with his coworkers. Paul learned his tasks initially with the support of a Best Buddies Jobs coach and his co-workers. Once a solid foundation was built, Paul took off and has been impressing guests and Bellagio staff ever since.
Paul is in his fourth month on the job and he is working fully independently. He has risen to the occasion and delivers Five Diamond guest service while keeping track of dozens of tasks he is responsible for as a Gym Attendant. Paul has transformed – his poise, professionalism, and interpersonal skills are a result of his daily efforts to improve himself and meet his career goals. Paul does whatever it takes to be successful, including coming into work at 5:00 am to open the gym and even works on holidays. Through Paul's hard work, he has set the stage for other Best Buddies Jobs participants to join MGM.